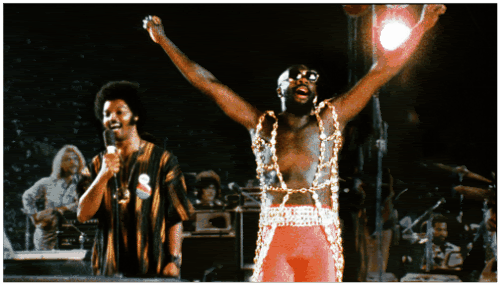 What better way to kick start the weekend that with a tribute to one of the best that ever did it? And as always, if you're digging this, hit up Gangstarr Girl for a fresh take on hip-hop, politics, fashion and other worldly and wordy things through the eyes of a New York-helmed around-the-way girl. Without further adeiu…
This one is a tribute to Isaac Hayes a.k.a. Black Moses, who not only shaped the musical sound of blaxploitation films after Shaft, but also hip-hop as a plethora of his music has been sampled by various people.

Three Tough Guys (1974)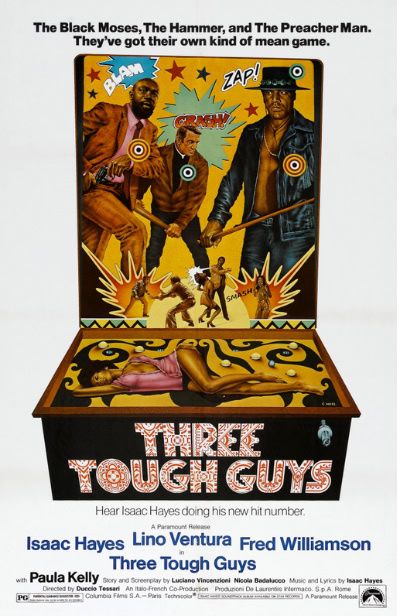 Although it was an action film (typical of flicks in the genre) it deviated in the sense that a black man teamed up with a white man for the same cause and it wasn't about getting revenge against "The Man." This is most likely because it was written and directed by Italians.

Synopsis:
Isaac Hayes plays Lee, a cop removed from the force in what looks like a frame up when $1,000,000 is stolen from the bank. He teams up with his friend Father Charlie (ex con turned priest lol) to get to the bottom of things. It all eventually leads to trouble–the third tough guy played by Fred Williamson.
[youtube=http://www.youtube.com/watch?v=zq83FHi2RpA]
Facts:
This film was Isaac Hayes' acting debut.

"I was always attracted to acting…but I never had an opportunity," said Hayes (taken from What it is…What it Was-Hyperion Books). He added, "The first shot I had was because of my popularity as an entertainer and as a recording artist… [Three Tough Guys] was a learning experience [and] I worked with some talented actors."

Hayes also scored the movie and soundtrack. You'll probably recognize this song from some hip-hop samples:
DOWNLOAD: Isaac Hayes – Hung Up On My Baby
The first movie score Isaac Hayes ever did was for Shaft which I featured weeks before his untimely death. Click here for that feature.

Fred Williamson, like Pam Grier, Yaphet Koto, and some others was a star of the genre. One of his most popular films was Black Caesar. Click here for that feature.