Nevermind the frequent usage to the n-bomb through out his flicks, Quentin Tarantino's eye and style was truly a stand out. True story: I've not seen Pulp Fiction in its entirety, but I've watched Kill Bill about five times already. Sue me. And as always, if you're digging this, hit up Gangstarr Girl for a fresh take on hip-hop, politics, fashion and other worldly and wordy things through the eyes of a New York-helmed around-the-way girl. Without further adeiu…
Year: 1997

Synopsis:
Jackie Brown (Pam Grier) is a 44-year-old flight attendant who gets caught smuggling money for her boss–Ordell Robbie (Samuel L. Jackson). In order to get the ATF off her back she sets up Ordell with her new friend, a bail bondsman named Max Cherry who falls in love with her. But what the ATF doesn't know is that they are part of her wild plan to get Ordell's half-a-million dollars and get off 100% free.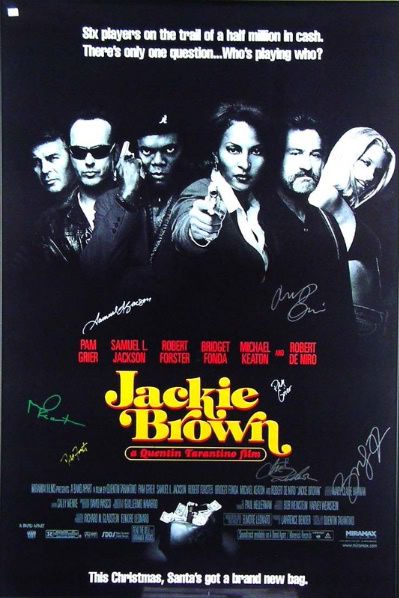 [youtube=http://www.youtube.com/watch?v=JRhx0myyLg0]
Directed by: Quentin Tarantino

Tarantino is admittedly influenced by blaxploitation films and he even credits rappers for embracing the films, present day. Although the plot in this flick didn't take place in the 70s (and it obviously wasn't filmed then), the main characters are basically 70s OGs, and overall elements of the movie reflect that blaxploitation influence. This is Tarantino's homage to the genre.

Music:
The film opens with the eponymous theme song from Across 110th Street sung by Bobby Womack. That was the only song from a blaxploitation movie soundtrack in the movie but there were other recognizable 70s funk and soul songs by artists like Minnie Riperton, Bill Withers, etc.
DOWNLOAD: Bobby Womack – Across 110th Street | Mediafire