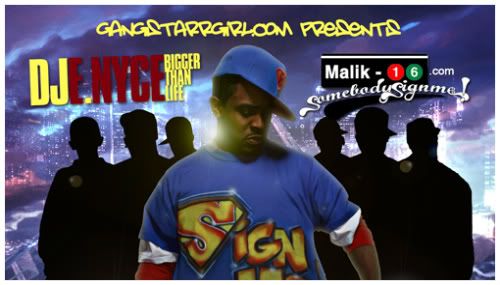 Here is the first part of Malik-16's double album mixtape, Who Doesn't Rap?, hosted by the homie Starr of Gangstarr Girl. And be sure to check out her site for more on the Harlem rapper, as she's in the middle of Malik-16 week. Tracklist and link under the cut.
01 Starr's Intro
02 Cassette Feel (How To Make A Mixtape)
03 Jackin' For Flows
04 Homicide
05 Dairy Queen
06 Police Is Watchin' f. K.Lio
07 Back Out
08 Sunshine
09 30 N Over
10 Premo
11 Daddy's Caddy
12 Fuck Who You Wit f. A.Pinks
13 I'll Be Good f. Shak-C
14 Imaginary Player '08
15 Like My Style
16 Harlem Son!
DOWNLOAD: DJ E. Nyce & Malik-16 Present – How To Make A Mixtape Vol. 1: Who Doesn't Rap? (Mixtape)