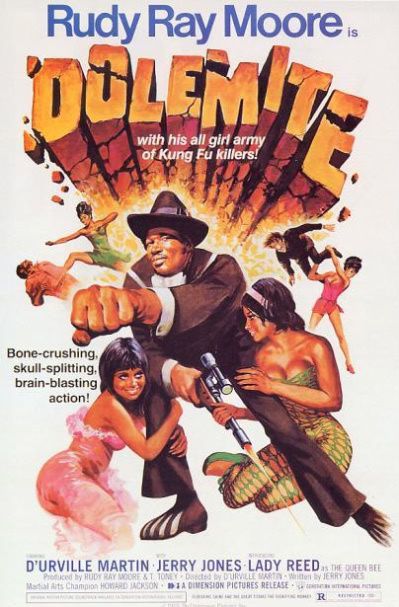 In case you didn't know, we lost another  influential comedian in Dolemite himself, so Starr is giving him a proper send off. And as always,  And as always, if you're digging this, hit up Gangstarr Girl for a fresh take on hip-hop, politics, fashion and other worldly and wordy things through the eyes of a New York-helmed around-the-way girl. Without further adeiu…
(1975)

I'm taking a brief break from "Malik 16 Week" and the "Blaxploitation Friday" horror edition to feature Dolemite, in honor of stand up comedy legend Rudy Ray Moore, who died on Oct 17 due to complications from diabetes. Rest in peace.

[youtube=http://www.youtube.com/watch?v=7T2ZTflx64U]
Facts:

True to Moore's foul-mouthed stand-up comedy rap routines in real life, "Dolemite" also raps some comedic routines (including the underground classic "Signifyin' Monkey") in the film.

Moore was one of the film's writers.

Dolemite is obviously a film that has had a huge impact on hip-hop culture from the moniker "Queen B" adopted by Lil' Kim, to Snoop Dogg, and Too $hort's persona.

Also, have you seen Half Baked? Remember Samson and his bevy of deadly beauties (or even Sho'Nuff in The Last Dragon)?

This film spawned Dolemite spin offs, with which Moore was also involved.

Read more about him HERE.