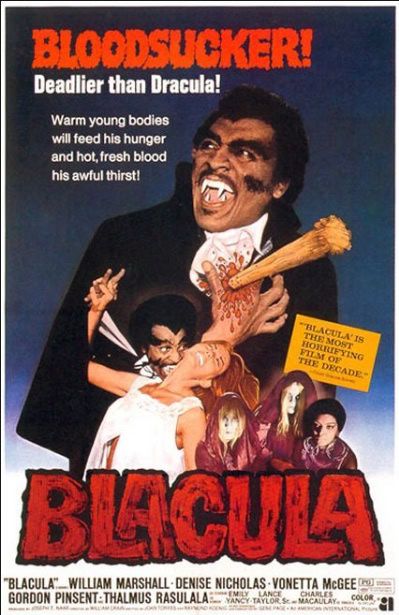 With Halloween about to jump off tonight, Starr dedicates this Blaxploitation to one of the more popular rehases of all time. And as always, if you're digging this, hit up Gangstarr Girl for a fresh take on hip-hop, politics, fashion and other worldly and wordy things through the eyes of a New York-helmed around-the-way girl. Without further adeiu…
I was doing the "Blaxploitation Horror Edition" until I broke when Rudy Ray Moore aka DOLEMITE passed away. So, since I deviated and it's Halloween, I'm going to close out the horror series with a double feature (there are more horror blaxploitation flicks but I'm ending the consecutive series).
1972

Synopsis:

Do I really have to go there? LOL. Ok, if I must…Blacula is the story of Mamuwalde, an African Prince who is turned into a vampire by the original Count Dracula while visiting Transylvania, and then locked in a coffin. He is then unwittingly unleashed by two antique collectors who transport the coffin to Los Angeles. Horror ensues as Blacula leaves a trail of blood when he finds Tina, who is his wife, Lyuka, reincarnated, and gains her love. Tina's friend, Dr. Gordon, discovers what Blacula really is and hunts him down.
[youtube=http://www.youtube.com/watch?v=DvR6nfsIk3E]
Facts:

William Marshall lived in Paris in the 60s and organized a March, along with James Baldwin, to coincide with the 1963 March on Washington (look it up). When he returned to the U.S. he got involved in working to improve roles for Black Actors and Black-themed projects. He worked as a professor of Black film and theater at California State University, Northridge.

Marshall made an immense impact on the writers and producers of Blacula by getting very involved in developing the character, which he originally felt was very cliche, ignorant and stereotypical. Two of the biggest changes he made were suggesting that they not only make the vampire an African prince, but that they changed his name from Andrew Brown to Mumuwalde. He felt that the name "Andy" was too closely related to the Black face, white comedy team of Amos and Andy, and wanted to remove Blacula from that sort of association.

The producers were skeptical at first but he persuaded them to let him sketch out certain scenes.

"I think the producers were quite surprised at how positive the response to the film was," said Marshall (taken from What it Is…What it Was Hyperion Books)…Not for a moment did they think this was something that would become as meaningful to audiences as it did."

While Marshall gained his widest recognition for his role as Blacula, he also appeared as Dr. Richard Daystrum on Star Trek (one episode 1968) and as the King of Cartoons on Pee Wee's Playhouse (1986-1991).

Scream Blacula, Scream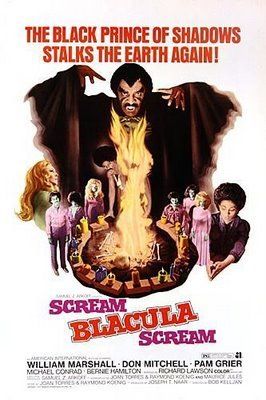 1973

Also starring Pam Grier who "diversified her portfolio" by playing a Voodoo priestess.

Synopsis:

When the Mama Loa of a voodoo cult dies, the popular vote is for Lisa Portier (Pam Grier) to succeed her and cult member Willis, as a result, vows revenge. In an attempt to gain power over his enemies, he acquires the bones of Prince Mamuwalde (Blacula), and resurrects the vampire. Blacula vampirizes Willis and places him under his control.

As vampirism spreads amongst the circle of friends and cult members, Blacula takes an interest in Lisa and believes she can lift the curse upon him by casting a voodoo spell and performing an exorcism. But Lisa's boyfriend Justin begins to work with the police in order to solve the recent spate of bloodless corpses and disappearing victims, quickly making the connection to Mamuwalde.

Lisa is, at first, sympathetic to Mamuwalde's situation and agrees to go through with the exorcism (which seemed to be working), but as they are interrupted by Justin and the policemen, an infuriated Blacula goes on a rampage and begins to kill the policemen, eventually threatening Justin. Lisa, horrified, realizes she must stop Blacula but the film ends ambiguously as Lisa seizes the Blacula voodoo doll, originally created for their exorcism, and plunges a wooden arrow into its heart while Blacula screams in agony.
[youtube=http://www.youtube.com/watch?v=CxqE50c2x_0]
The Blacula series is among the better blaxploitation horror movies, like Abby. Check out William Marshall's involvement in "The Black Exorcist" HERE.