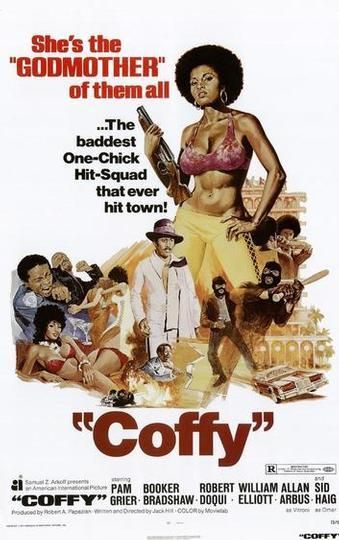 I somehow forgot to toss this up last night. Oops. Especially when she did something on one of the GOAT of women? Sheeeit. And as always, if you're digging this, hit up Gangstarr Girl for a fresh take on hip-hop, politics, fashion and other worldly and wordy things through the eyes of a New York-helmed around-the-way girl. Without further adeiu…
And two weeks later, I'm still on my Halloween high. The women from this genre inspired my costume (which I'm still too lazy to post) so I had to bring you another heroine.
1973

Synopsis:

When Nurse Coffin's ("Coffy") 11-year old sister becomes a hopeless addict, she takes the law into her own hands…

And we know that the one-woman hit squad ensues.
[youtube=http://www.youtube.com/watch?v=2jVAIitIP-4]
The music at 0:43 was the theme music. I don't know what it is about that song, but I really, really like it. Can someone sample it. Pleaaaaaaassseee?

Roy Ayers did the soundtrack, btw. I love his usage of the xylophone (in all his music in general).

Fact: Pam Grier didn't have as much control over the portrayal her character in this film as she had with following films like Foxy Brown and Friday Foster.