2008 has been an amazing year for my self, my partner and our site, and to be honest I was not expecting things to turn out the way they have yet am ridiculously happy and ecstatic on how things turned out. 2009 is shaping up to be an even bigger year for us as well. With that said, I'm posting a small snippet of my personal favorites of the last 364.
Endtroducing… Meka's Soul Mix Show
This is where it all began for yours truly. My love of music took me through a trip down memory lane, finding samples left and right, and thanks to my…errr… colorful vernacular over at my DX blog I was offered to team with my partner to launch this site. My first post here will always have a top spot for me, even if it was in 2007.
DXnext: U-N-I
A funny (and overtold, but fuck it, one more time ha) story on how we met: I attended the Los Angeles Sneaker Pimps event in August of 2007 where I saw Thurzday andY-O rocking the stage. I tried to approach them for the street tape they were selling, but got snubbed instead. Yeah, Slap-Box M wasn't that big a deal then. Fast-forward to December, where I caught the video for "K.R.E.A.M." and eventually Fried Chicken & Watermelon, and eventually I pitched to DX about spotlighting these two talented acts from Inglewood. They've been my favorite artists of 2008 since.
Meka's (2)Dope vs (un)Dope Pete Rock Guitar Center SessionI don't usually stan for many artists, but I was on full-time stan mode when I attended Guitar Cener's Pete Rock session. Wackiness ensued trying to get there, but it was definitely a memorable experience.
A (2)Dope Mixtape: Cadillac Edition (Mixtape)
What more can I say? This was my favorite album of 2008. And yes, I am being biased. But putting the whole thing together was a memorable experience as well, and I am pleased with how warm the reception was for it. We definitely will do another on next year, but the first one will always be my favorite.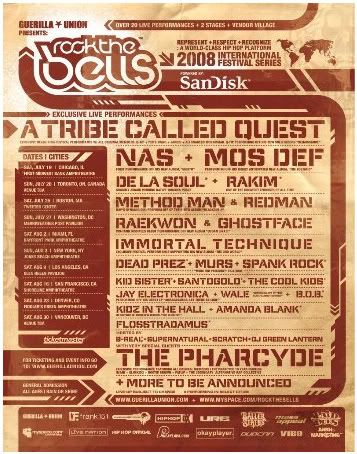 A (2)Dope Rock The Bells Post, Part 1
At the 2007 Rock The Bells show, I was hocking tees and CDs for DX. For 2008's rendition I was hanging backstage with some of my rap idols, having an up-close shot of  their performances and – the highlight of my experience – tracking down the recently-reunited Pharcyde for an exclusive interview while Davey D recorded the whole thing. Easily the best concert I ever went to.
The New Music Cartel
Some hate us, some love us, but everybody respects us. And no, those two above aren't our official spokesmodels, but they are in my dreams.
I have many more, but I got to get ready for a night of debauchery. Thank you to everyone who has supported this site in any way, shape or form. We promise to bring many things in the near future, so stay tuned. Happy New Year, bidges!