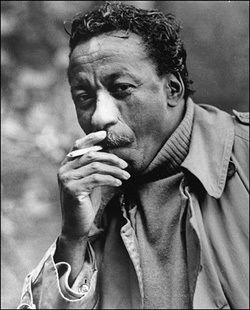 With it being *shudders* Black History Month, Starr takes the time out to dedicate a post to one of the GOATs. And as always, if you're digging this, hit up Gangstarr Girl for a fresh take on hip-hop, politics, fashion and other worldly and wordy things through the eyes of a New York-helmed around-the-way girl. Without further adeiu…
It's Black History Month so I decided to be cliche and jump off the icons edition of Blaxploitation Friday. Today's solute goes to Gordon Parks–photographer, journalist, author, director, visionary.
Gordon Parks was the first African-American to make a studio film in 1969 with The Learning Tree. His contribution to the Blaxploitation genre runs deep as he directed Shaft, one of the first films considered to have set off the era.
1971

He also directed one of the sequels, Shaft's Big Score! (1972).

Parks made a tremendous impact on hip-hop culture as well. D-Nice and Fab Five Freddy have admittedly been influenced by him, but it was when XXL Magazine tapped him to shoot "A Great Day in Hip-Hop" (September 1998), their tribute to the popular "Great Day in Harlem," where people realized how important he was.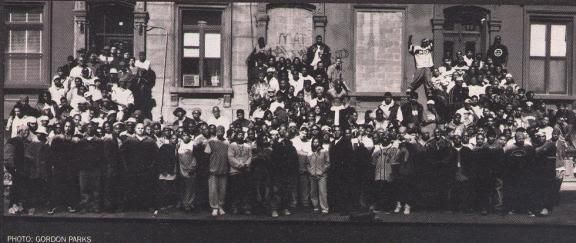 (click picture for bigger image)
That day was a big deal for the rappers who participated. Some were already familiar with Parks and some got schooled at the photoshoot, but the impact still resonates. If you obtain a copy of the October 2008 XXL Magazine, there's a tribute piece commemorating the 10-year anniversary of that day. In various interviews I did along with Jack Erwin (with Rakim, Styles P, Sticky Fingaz, Kurupt, Cee-Lo, etc), you can read some of their testimonies where they acknowledge how big it was for them to work with Gordon Parks. Right on, brotha!

Fun Fact: Parks co-founded Essence Magazine