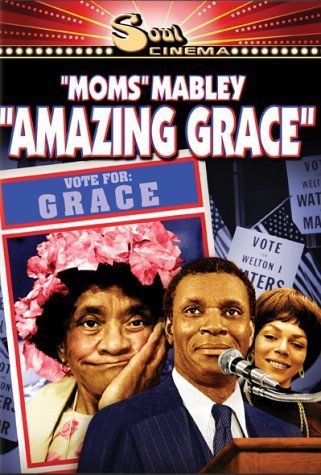 And as always, if you're digging this, hit up Gangstarr Girl for a fresh take on hip-hop, politics, fashion and other worldly and wordy things through the eyes of a New York-helmed around-the-way girl. Without further adeiu…
Amazing Grace
1974

Moms Mabley is the original Queen of Comedy!

Synopsis: An elderly woman in a Baltimore neighborhood finds out that a slow-witted neighbor is being put up for local office by shady politicians who have no interest in their neighborhood, but on the money that comes into it. She rallies neighborhood people together to plan to thwart the politicians.
[youtube=http://www.youtube.com/watch?v=9sBVIgd3_Zw]
*Directed by Stan Lathan, Sanaa Lathan's father.

About Moms Mabley:
Moms Mabley was one of the greatest comedians of all time. She is widely regarded as one of the most important African-American entertainers that ever lived and as the first bonafide female stand-up comedy superstar. At her peak, she was making ten thousand dollars a week for stage appearances alone. It's ridiculous that a book has yet to be written* about this comedy legend, one of the first to use the stage to advocate civil rights for both her race and gender. The social issues that boiled over in the late sixties were something Mabley had been addressing for decades. When the struggle against war, racism and varied discrimination became the focus of a new generation, Mabley suddenly found herself a bigger star than before, her message embraced by those involved in the fight. CLICK HERE for more.