And as always, if you're digging this, hit up Gangstarr Girl for a fresh take on hip-hop, politics, fashion and other worldly and wordy things through the eyes of a New York-helmed around-the-way girl. Without further adeiu…
Bucktown, 1975

Bucktown featured 1970s TV and Film OG's Pam Grier, Fred Williamson, Thalmus Rasulala and Tony King. Directed by Arthur Marks (who was responsible for 70s TV hits like Perry Mason and Starsky and Hutch, and also did films like Detroit 9000, Friday Foster and JD's Revenge), he was approached for Bucktown after the success of Detroit 9000. He had coincidentally read an article in Time magazine about a town in East St. Louis (Buchanon, Missouri) that was known as "Blacktown" because it was predominately Black. The predominately White police department ran Blacktown with extortion and by beating up its citizens. Inspired, Marks used that as the basis for Bucktown.
Synopsis: Duke Johnson (Fred Williamson) visits a small Southern town, to bury his brother who supposedly died of pneumonia but was actually beaten to death. He inherits his brother's nightclub (a kid, a barmaid, and a bartender come along with that) and learns that he must stay for 60 days, in order for his brother's estate to be processed. While keeping up his brother's legacy, the local redneck policemen are intimidating Duke with threats of violence (like they did to his brother). Duke refuses to pay the bribes they demand, and calls his buddies from Philly to help fight the crooked cops. They bring justice to the small town but feel entitled to Johnson's rewards. Things get ugly when Duke Johnson finds himself fighting his own friends.
[youtube=http://www.youtube.com/watch?v=HJR2Q45Jvz0]
General Steele of Smif-N-Wessun released a project called Bucktown a couple of days ago, obviously inspired by the film.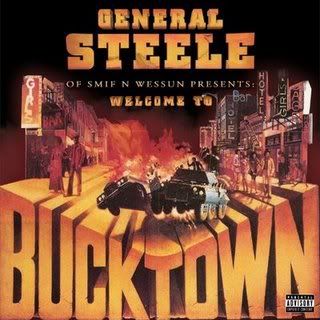 I caught up with him and got some quotes about blaxploitation and hip-hop, and what inspired him about the movie:

Why is hip-hop so heavily influenced by the blaxploitation genre?
It's similar to the old Kung Fu flicks many of us used to watch when we where kids. Sometimes it would be after school [and] sometimes from an older family member, like an uncle or something. The blaxploitation films showed a lot of what was going on in the communities of the north as well as plantations in the south. Therefore, I think many of us can relate to these films directly as well as indirectly. Although the images where often a little exaggerated, it gave many black actors a chance to show their skill by playing diverse roles and opening up doors for many to follow–similar to hip-hop.

What about Bucktown the film inspired Bucktown the music?
This might sound false but Smif-N-Wessun released a song titled "Bucktown" in '94 unaware of the movie with the same title. To me, it seemed more than a coincidence, it seemed like fate especially after I saw the film, it blew my mind. The actors Pam Grier, of course, Fred Williamson,Thalmus Rasulala and Tony King–they smashed it. Not to mention, the concept of trust and friendship and police corruption amongst other things, hits close to home so it felt like a natural marriage–not to copy or emulate but to pay tribute to a classic.

Who's the most bad ass character in the movie and why?
Stevie, the little kid. He was the baddest dude on set. He ain't take no mess [laughs].

*Research from What it is…What it Was: The Black Film explosion of the 70s in Words and Pictures
[youtube=http://www.youtube.com/watch?v=CwQSq5iZdpQ]