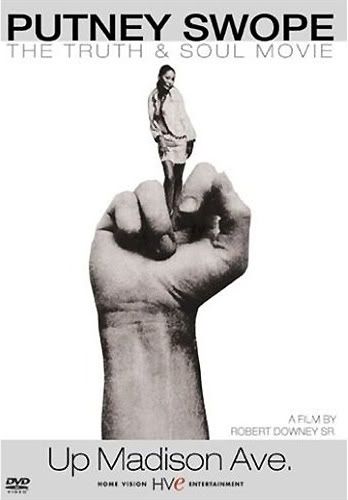 And as always, if you're digging this, hit up Gangstarr Girl for a fresh take on hip-hop, politics, fashion and other worldly and wordy things through the eyes of a New York-helmed around-the-way girl. Without further adieu…
Back then, this film was ahead of its time because it was a satire in which the token Black man on the executive board of an advertising firm is accidentally put in charge. Renaming the business "Truth and Soul, Inc," he replaces the tight regime of affluent white ad men with his militant brothers. Soon afterward, however, the power that comes with its position takes its toll on Putney. (from imdb)
I couldn't find a trailer, but here's a clip. P.S. My cousin is in this lol. I was trippin' when I saw him (it was a non-speaking role though).
[youtube=http://www.youtube.com/watch?v=8dTGNd5vLkU]
Putney Swope was written and directed by Robert Downey Sr. After several years working on the underground film scene in New York, he got national recognition with this irreverent flick.

Spike Lee definitely took cues from this movie for his own classics, Bamboozled and She Hate Me.