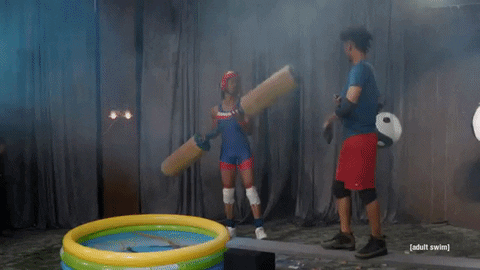 On the lowest of keys, Eric Andre on the FXX series Man Seeking Woman is the true star of the show. A hilariously extreme yet very accurate depiction of what it is to be a average schlub tossed back into the dating pool, Andre's Mike is easily the funniest character on the show.
His bananas, eponymously titled "talk" show on Cartoon Network's [adult swim] block, is essentially what happens when you give a child off his Ritalin medication a camera, a budget, and near-unlimited freedom to do whatever they want, and that is meant in the most complimentary manner possible. With its fourth season kicking off August 5th he has previewed a segment called "Rapper Warrior Ninja." In it, the likes of Danny Brown, A$AP Rocky, Nocando, Open Mike Eagle, and Go Dreamer try to rap their way through an oddball "obstacle course" while blindfolded.
The entire hilarious spectacle can be seen below.