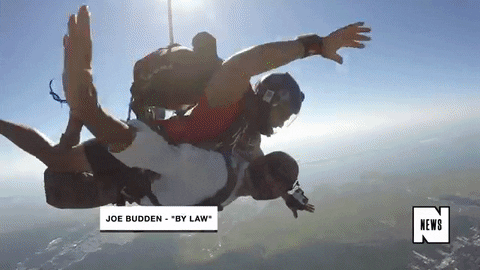 Skydiving: something I'll never do, something I've never thought about doing and i only know one person who's done it (who, perhaps ironically, broke his leg while doing so).
So, of course Joe Budden would be down to risk it all in the name of adrenaline.
Meeting with Complex' Nadeska Alexis, an under-the-weather Budden took to New Jersey's Skydive East Coast where, before revealing details on his upcoming follow-up to 2015's All Love Lost he hopped out of a plane. For the culture, or something.
Fortunately for his fans, his parachute worked and he revealed the release date of his sixth album Rage & The Machine: October 21st. He also previewed a second song — following "Flex" with Fabolous and Tory Lanez, and produced by araabMUZIK — from the album, "By Law," which can be heard while he is mid-air.
The artwork and tracklisting can be seen below. Pre-orders are available via iTunes.
Three
Uncle Joe
Serious f. Joell Ortiz
By Law f. Jazzy
Flex f. Tory Lanez & Fabolous
Forget
I Gotta Ask
Time For Work f. Emanny
Wrong One
I Wanna Know f. Stacy Barthe
Idols