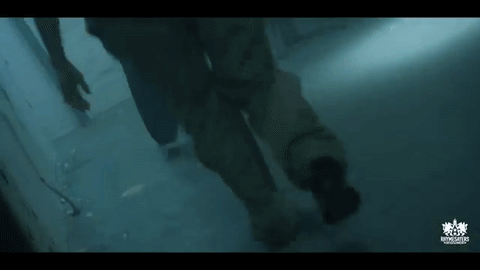 Great news for Atmosphere fanatics.
Alongside the success of their seventh album Fishing Blues, Ant and Slug have released a (prison riot disguised as a) video for one of the project's highlights "Seismic Waves."
The duo have also announced the second leg of their sold-out (to the tune of over 43,000 attendees) Freshwater Fly Fishermen Tour, with special guests Brother Ali, deM atlaS, Plain Ole Bill and Last Word. Taking them into 2017, both the video and dates for their Freshwater Fly Fishermen Tour can be seen below.
11.02 – Grand Rapids, MI @ The Intersection
11.03 – Detroit, MI @ Majestic Theatre
11.04 – Toronto, ON @ Rebel Complex
11.05 – London, ON @ London Music Hall
11.07 – Montreal, QC @ Fairmount Theatre
11.09 – Portland, ME @ State Theatre
11.10 – Burlington, VT @ Higher Ground (SOLD OUT)
11.11 – New Haven, CT @ Toad's Place
11.12 – Philadelphia, PA @ TLA
11.14 – Washington, DC @ 9:30 Club
11.15 – New York, NY @ Webster Hall
11.17 – Boston, MA @ House of Blues
11.18 – Pittsburgh, PA @ Stage AE
11.19 – Cleveland, OH @ House of Blues
11.21 & 11.22 – Chicago, IL @ Concord Music Hall
11.23 – Milwaukee, WI @ Eagle's Ballroom Club Stage
11.28 – Duluth, MN @ Clyde Iron Works
11.29 – Minneapolis, MN @ First Avenue (SOLD OUT)
12.01 – Kahului, HI @ Maui Arts & Cultural Center
12.02 & 12.03 – Honolulu, HI @ Republik
1.13 – Sioux Falls, SD @ The District
1.14 – Iowa City, IA @ Blue Moose Tap House
1.15 – Lawrence, KS @ Granada Theater
1.17 – El Paso, TX @ Tricky Falls
1.18 – San Antonio, TX @ Paper Tiger
1.20 – Austin, TX @ Emo's
1.21 – Dallas, TX @ The Bomb Factory
1.22 – Houston, TX @ House of Blues
1.24 – New Orleans, LA @ Republic New Orleans
1.26 – Orlando, FL @ The Beacham Theatre
1.27 – Fort Lauderdale, FL @ Revolution
1.28 – Tampa, FL @ The Orpheum
1.30 – Charleston, SC @ Music Farm
1.31 – Atlanta, GA @ Center Stage
2.02 – Asheville, NC @ The Orange Peel
2.03 – Charlotte, NC @ The Underground – Charlotte
2.04 – Richmond, VA @ The National
2.07 – Columbus, OH @ Newport Music Hall
2.08 – Indianapolis, IN @ The Vogue
2.09 – Columbia, MO @ The Blue Note