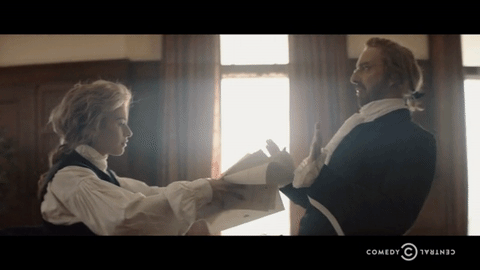 It was only a matter of time.
Comedy Central's Drunk History is one of the funnier shows on the network, where comedians and average Joes alike retell historical events while washed and rinsed on booze. Originally a Funny or Die sketch, the very first installment featured creator host Derek Waters and actor Michael Cera telling the story of Alexander Hamilton's infamous duel with Aaron Burr.
Well, it only seemed right that Lin-Manuel Miranda — creator of the award-winning Broadway play Hamilton — would recreate the show's recreation… while washed and rinsed on booze.
Even more meta, the show rounds up the likes of Tony Hale and Alia Shawkat, who co-starred alongside Cera on Arrested Development, as well as Dave Grohl, Questlove, and Aubrey Plaza. As well as the duel, this episode spotlighted Hamilton's time with George Washington as well as his… let's say, discretions.
Watch clips of the episode below, and watch the entire episode on Comedy Central's site.