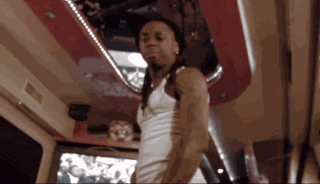 "As one gentleman to another, I just wanna say I really hope you f**king get Lou Gehrig's disease."
That quip came courtesy of the 2012 film Ted, and to be honest it essentially summarizes my thoughts about Martin Shkreli.
Aside from being a general detriment to society, Shkreli has tried his best to troll hip hop over the years, engaging in a war of wits with Ghostface Killah and trying to make Bobby Shmurda his indentured servant.
Now for his latest magic trick? He allegedly got his hands on the never-coming-out-because-Birdman album from Mr. "Racism Doesn't Exist Because I'm Rich" himself, Lil Wayne's Tha Carter V.
Shkreli took to the Interwebs the other day to claim that he is in possession of "hip hop's most sought-after album," and played bits and pieces of it throughout his live stream.
After Wayne has caught the wrath of the hip hop community for his insensitive comments throughout his Nightline interview, it's safe to assume that that claim is a bit farfetched at this point. But can this guy go away, already?