By now, the world has seen Donald Glover's huge wins at the Golden Globes, with Atlanta winning Best Television Series, Musical or Comedy and Glover himself winning Best Actor in a Comedy Series. However, one of the more poignant moments of the night was Keith Stanfield's epic celebration dance…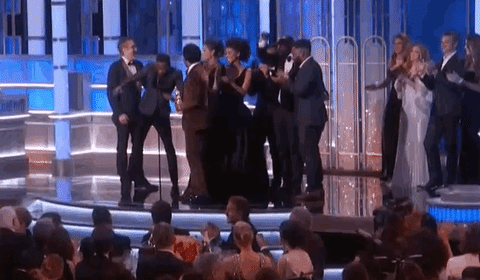 Joking, of course. It was Donald's acceptance speeches, where he gave thanks to his family, the city of Atlanta, Black people and the Migos' "Bad And Boujee," much to the delight of the hip hop community (and the amusing befuddlement of Jake Gyllenhaal, Justin Timberlake and other melanin-less types).
The praise continued backstage following the proceedings, where Glover would be asked about his shout out to the "Mygos." Glover explained:
"I think they're The Beatles of this generation. They don't get a lot of respect outside of Atlanta. There's a generation, the YouTube generation that I came up with, that are growing up with something separate from a whole group of people. Honestly, that song is just fly. There's no better song to have sex to."
With "Bad And Boujee" sitting side-by-side with Rae Sremmurd's "Black Beatles" (at the time of this piece) atop the Billboard Hot 100, it seems that the group does in fact gets a lot of respect outside of Atlanta.