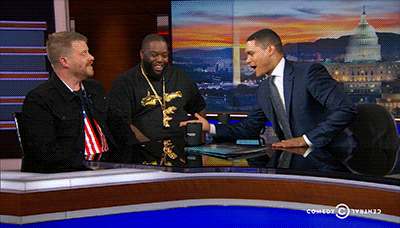 Following Cam'ron's humorous pro-snitching PSA, Comedy Central's The Daily Show invited Run The Jewels over for a brief conversation.
Speaking to Trevor Noah, Killer Mike and El-P spoke on their rejuvenated success as RTJ, Mike's political history and unwavering support of Bernie Sanders, their secret to staying woke (spoiler alert: weed), the Meow The Jewels project, and their GRAMMY snub for RTJ2.
Meanwhile, Run The Jewels dropped their own beer.