For those that haven't noticed, a thing I like to do on my mixes for the site is tack on an "intro" and "outro" to the mix, featuring audio clips from some of my favorite hood movies. The lone exception to this was The DILLA, where I instead used Kanye West's oddball compliment about his music.
(I also use it as a way to circumvent SoundCloud's still-wonky "DJ mix copyright infringement" rules. Despite claims that they will no longer remove DJ mixes, my mixes would in fact be taken down shortly after I uploaded them.)
One of the wackiest hood movies of all time is 1996's Don't Be a Menace to South Central While Drinking Your Juice in the Hood. Spoofing everything from New Jack City to Do the Right Thing, the movie was not and will never be the Oscar-winning magnum opus Moonlight is, but is definitely ideal for when all you want to do it just zone out and relax.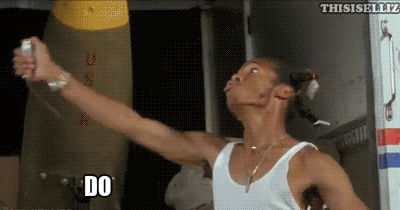 That's the basis of this mix I did for episode 7 of Left Coast Radio. There's no particular "theme" in this mix like before; it's just a mishmash of songs I like that I listen to when I'm grocery shopping, stuck in an airplane, at the gym or on the train. Perhaps you will enjoy it, too.
Listen to the full mix below (previous episodes can be heard here), and also check out episode 7 (and every episode) of Left Coast Radio on our SoundCloud page.
Left Coast Radio airs every Friday night at 10pm EST (7pm PST) on Dash Radio's XXL station.