Surprisingly, this is the very first video from Run The Jewels' eponymous third album, for their single "Legend Has It." But it is, by far, one of their zaniest (with a message!) visuals to date.
Directed by Brian Beletic, the video plays off of the ideal of "guilty until proven innocent." "In this story EL-P and Killer Mike are in a police lineup and the cards are stacked heavily against them. But why is that?" Beletic explains.
"This video is a worst nightmare scenario," RTJ adds. "High on acid and caught in the system. Pitted against icons of innocence in a police line up that doesn't feel real." Then, hilariously enough, they add, "No bunnies were hurt in the making of this video."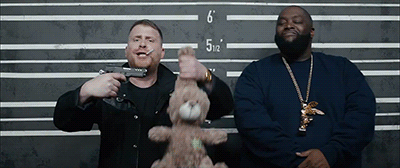 Watch the madness unfold below.