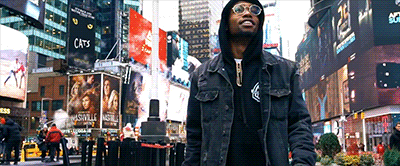 All Californians, when first visiting New York City, will almost always want to visit the majestic chaos that is Times Square. I definitely did it during my first visit to the Big Apple; now that I live here, I avoid that part of town at all costs.
San Diego native Rob $tone can't resist the allure also, as he chronicles his Times Square adventure in his latest double-video for "Outstanding" and "All About The Money."
A visual for a pair of loose tracks he recently released, Rob takes a break from his supporting role on Desiigner's Outlet Tour to take in the sights, sounds and costumed freaks of The Crossroads of the World. Hey, I might be jaded of that place, but I can't knock another guy for having fun there.