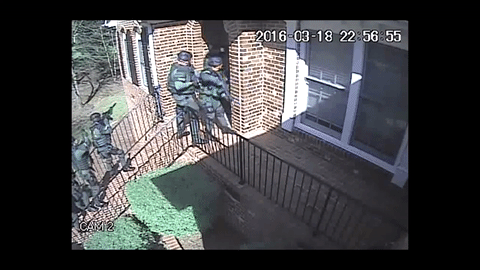 During his HBO documentary, 4 Your Eyez Only, J. Cole unveiled a video for the song "Neighbors." The "video" was was actually footage of a SWAT team raiding The Sheltuh, the North Carolina studio Cole had rented to record the album, after complaints from (white) neighbors thinking that the residence was instead being used as a trap house (because, Black people kept coming in and out of it).
(It goes without mention, that nothing was found, no illegal activity was discovered during the raid, and ironically nobody was even in the house as Cole and his crew were out in Austin, TX for SXSW at the time.)
Cole has now released the video for "Neighbors" as a standalone clip. Viewers can watch the botched raid from the multiple camera angles — courtesy of CCTV — that captured the entire thing, and an "ending" in which SWAT members ultimately destroyed the cameras.
UPDATE: J. Cole has actually released the 4 Your Eyez Only documentary, in its entirety, to YouTube. Watch it below.