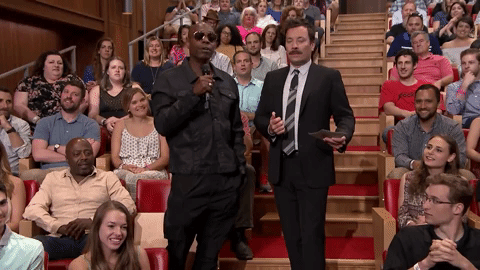 Dave Chappelle is back on the press junket, this time to promote his monthlong residency at New York's Radio City Music Hall in August 2017 (which he just included Lauryn Hill, Chance The Rapper, Yasiin Bey and now Lil Wayne to to roster). Last night (June 29th) he stopped by the offices of Jimmy Fallon (and that… moustache) to speak on the shows, and he ended up "freestylin'" with Fallon and The Roots.
After giving some "information" about himself, the whole thing turns into this impromptu jam session where Black Thought raps about Dave's tendency to go into hiding — only to come out when it's time to get money — over a recreation of New Edition's "Candy Girl."
This morning (June 30th), Dave — along with Donnell Rawlings — stopped by The Breakfast Club to talk Bill Cosby, the late Charlie Murphy, and more.