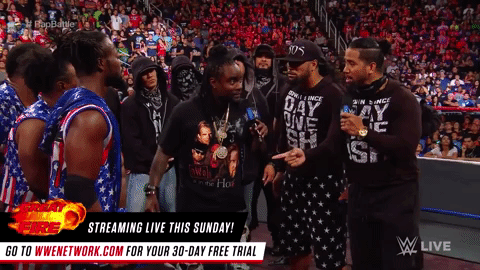 I used to consider myself huge WWE fan back in the day. However, that all changed once I moved to New York and didn't have (read: couldn't afford) cable television for my first three months. Needless to say, Wale's fandom has lapped me multiple times at this point.
The Walemania purveyor is known to be ringside at many of the WWE's pay-per-view events, and last night (July 4th) he was invited to take part in a WWE Smackdown Live "rap off" between wrestlers The New Day and the SmackDown Tag Team Champions The Usos. Surprisingly, this mini-battle was wholly entertaining, and the raps weren't half-bad… at least, it was better than whenever John Cena used to "battle" people back when I watched WWE programming.
Spoiler alert: The New Day won, and they celebrated backstage.
Also, shouts to the WWE for having better representation of ethnically diverse characters. Can you believe we sat through an era of Papa Shangos, Akeem, the African Dreams, Kamalas and this?