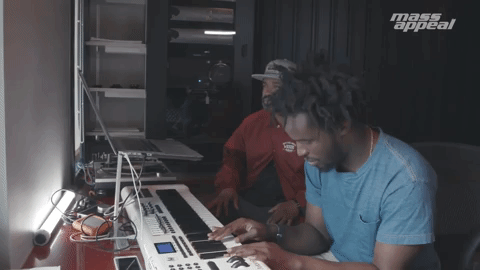 Mass Appeal's Rhythm Roulette series has a fascinating premise: grab a producer, blindfold said producer, have said producer walk blindfolded through a record store and randomly procure several records, and have said producer make beats sampling from those records.
SoCal's DJ Dahi previously took on the Rhythm Roulette in 2016, but he participates again for a special Serato Sample edition of the series. Serato Sample is a plug-in for "producers that allows you to quickly find, chop, key shift and time-stretch samples," integrated with Serato's Pitch 'n Time program. It's essentially designed to make sampling easier for producers, similar to how Serato revolutionized deejaying with their Scratch and DJ programs.
Rather than hit a record store, Dahi instead picked out random records from rare groove vendor Gene Brown's collection, who has worked with the likes of Pete Rock and Kanye West. After selecting a gospel record by the Midwestern District Choir, Greg Perry's 1977 album Smokin', and an "extremely rare Brazilian joint," Dahi went to work.
Watch an overview of Serato Sample, as well.