It was all good just a week ago.
The relationship between JAY-Z and Kanye West has remained a hot button topic for a while now, with Shawn recent commenting on the "status" of their friendship throughout 4:44 and Kanye rumored to have a reply waiting in the wings. Now, a UK network will attempt to shed light on things with a documentary.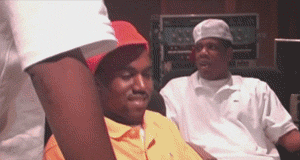 Channel 4 will air a special titled "Public Enemies," which will explore the friendship — and dichotomy — of the two artists. While it sounds like a chintzy attempt at ratings, Channel 4 claims that it will debut unseen footage from Jay and Kanye, and there will be "unheard testimonials" from the likes of DJ Clark Kent, Just Blaze and more.
JAY-Z and Kanye's episode of "Public Enemies" airs Monday, July 31st. A preview can be seen below.
UPDATE: Looks like this is another case of someone trying to make a buck off bullshit. After this post went up, Just Blaze and DJ Clark Kent both shared their respective disappointment in the misleading approach that was taken with each interview.