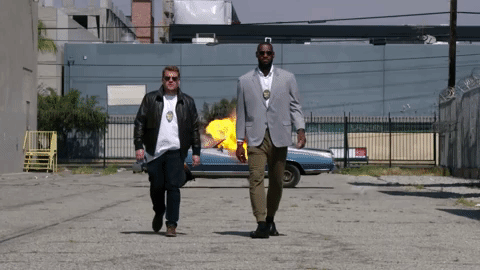 One of the most popular quasi-sketches on late-night television is James Corden's Carpool Karaoke segments. So much so, that it has now become a standalone series on Apple Music.
Set to debut August 8th, Carpool Karaoke: The Series will feature various celebrities of media and sports singing along to hit songs (and, apparently not just their own tunes), and . The first season will feature the likes of Big Sean, LeBron James, John Legend, Alicia Keys, will.i.am, Trevor Noah, Will Smith, Shaquille O'Neal, Queen Latifah, Ludacris, Tyrese, Ice Cube and a host of others. It will also, apparently, move beyond the boundaries of the car: artists are playing instruments, going into a car wash, crashing weddings, bursting into laundromats with choirs, and breaking into dances on the street among other things.
A pair of trailers can be seen below, and more footage can be checked out at Carpool Karaoke's Instagram page.
Get Up Off That Thing
On the Road Again
James recently had a more traditional Carpool Karaoke with Usher on his eponymous late-night show.