(Editor's note: I wrote this in 2016, as the album had turned five years old. Things have changed quite a bit for both JAY-Z and Kanye West since then, as well as New York, and this piece reflects as such.)
Watch The Throne was set up to be a disaster before it ever surfaced.
It came at a proverbial — and literal — crossroads for both JAY-Z and Kanye West. Jay was on the verge of having his very first child, thus beginning to formally transition from New York's greatest living rap artist into something that was perhaps atypical to him: fatherhood. Meanwhile, Kanye was in full-blown rock star mode after the triumph of his victory lap, My Beautiful Dark Twisted Fantasy, his critically acclaimed comeback fifth album which followed the Taylor Swift mess at the 2009 MTV Video Music Awards and his subsequent "self-imposed exile" to Hawaii.
(This will be the only time I mention Taylor Swift in this piece.)
So, when word spread that the two were crafting a collaborative EP (then album), there was an understandable level of city-wide excitement I'd personally not seen since 2Pac got out of prison and signed to Death Row Records when I lived in Long Beach. And the first thing we got was… "H•A•M." And let's be honest here: "H•A•M" was not and is not a good song at all. But according to one of the toughest and cockiest cities on the planet, you couldn't convince anybody here that the song was cheeks.
(The song has not even aged well at all, and I'd gotten so tired of skipping it on the album that I just removed it from my copy altogether. But I'm digressing.)
Fortunately, that song wasn't indicative of Watch The Throne, which ended up being one of the best albums — rap or otherwise — of 2011. Ironically enough, it also holds the dubious distinction of being the last great rap moment from New York. Nevermind that that's even more incongruous since it involved a guy from Chicago.
Let me explain.
In 2011 it'd been two years since I uprooted myself cross-country from Long Beach to Harlem on an idea not unlike the central theme of HBO's How To Make It In America, and I was still relatively unhappy about the decision. Scratch that… I hated living in New York. I was fresh out of a relationship that would take me many moons to recover from, and I had emotionally checked out of most of the things I cared about. I hated that I'd moved so far away from my mother, who had gotten extremely sick at the time. I hated the weather that would switch from blistering hot to bone-achingly cold. I hated the food. I hated constantly being asked if I wanted to buy some fishscale from that flamboyantly weird-looking dope boy on my Harlem block; the guy had a too-long pinky fingernail, still rocked bedazzled belts, and walked a Shih Tzu, and I hated all of that. I couldn't care less about anything here, and I really couldn't care about a music industry which was at worst a debased glut of narcissists and at best a vapid land of empty souls. The only thing that kept me functioning — outside of copious amounts of weed and alcohol consumption — was music.
But living in New York when a joint album from two of the biggest rap stars of their era was coming somewhat changed that. The entire city felt alive and reborn, with everyone from the label big wig all the way down to the local postman all exuding a childlike excitement for the album. And "H•A•M" almost derailed all of that… until July 20th, 2011. In perhaps the last of his own "moments," before the Internet fully took over, Funk Flex had everyone glued to Hot 97 as he would premiere the album's real first single, "Otis." Say what you want about the guy these days (and we do, trust), but Flex had the entire Tri-State Area eating out of the palm of his boisterous hand when he teased then debuted the song. Then he played it over. Then again. And again. For what felt like eons.
The next time I had linked up with some fellow music "industry" associates on a "let's get drunk at this open-bar pow-wow" mid-week night, it was the only thing we all wanted to talk about. The overly grandeur and pompously arrogant raps. Ye's incredible manipulation of "Try A Little Tenderness." The Riccardo Tisci artwork! The video… the video! Who would ever think of taking a Maybach and chopping it down like it was a salad? It was audio opulence, and for a rare moment in my life that feeling I got from it reminded me of why I left Long Beach, CA in the first place. I had even gotten an invite to the official listening session for Watch The Throne, but it came at a time when I had flown back to be with my mother for a few weeks. Sure, for me it's family over everything… but I was still kicking myself internally.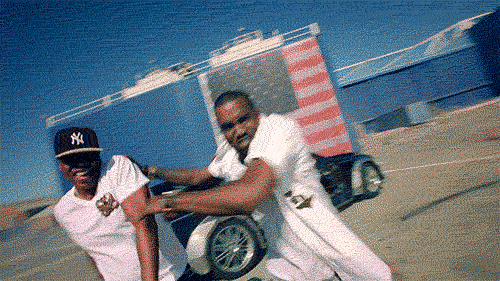 Obviously I wasn't the only person who shared that exuberance, and one schlub whose name shall never be mentioned decided to take things into his own hands when he attended the listening session, sneakily recorded multiple moments from it and leaked those recordings online. Because of that moment, everything changed for everyone. Def Jam and Roc Nation didn't trust any of us, and the schlub was nearly blackballed out of existence. To this day I don't see him much. But, once again, I'm digressing.
Watch The Throne arrived August 8th, on a Sunday evening; a rarity at the time, as albums usually dropped on Tuesdays at that point. From the opening wails of Frank Ocean on "No Church In The Wild" to JAY-Z satisfying many wheat-Timberlands-in-the-summer-wearing hip hop head by skating over some vintage Pete Rock production on "The Joy," the album came at a time where New York's dominance had waned so much in rap that people were questioning its very relevance and, for a short and shining second, changed all of that. "Ni**as in Paris" became the city's national anthem. There was even a pop-up shop in Manhattan, where visitors could cop a copy of the album and actually come face-to-face with the Maybach Caesar. For one brief and beautiful moment, the eyes of the entire music world was on The Big Apple. Sadly, it also would be the last "moment" the city has experienced since I came here in 2009.
Nowadays, it seems that everybody just beefs with each other for the sake of beef. You got fellow rappers going at each others' tonsils out here seemingly every day. The city's hip hop radio stations all hate each other, so much so that they're constantly berating each other on air rather than play music. Rappers from Brooklyn now sound like rappers from Atlanta, while ironically cheesed that New York-reared rap isn't as influential as it was years ago. I've only been here a handful of years, and it just feels like everything is in shambles out here. Now Flex spends his days throwing himself into beefs with artists that he has nothing to do with, and even insulted JAY-Z over things as trivial as website design or texting in capital letters. I've been here for eight years, yet I can think of at least eight radio-rapper "controversies" in the last eight months alone. In 2016, one of the most noteworthy moments on radio was Birdman's epic meltdown on The Breakfast Club; that speaks in droves about the way things are out in New York.
Even Jay and Kanye — once considered one of hip hop's closest kinships — no longer see eye to eye. Kanye, during a Saint Pablo Tour stop, was very critical (to say the least) of Shawn, before ultimately canceling the tour altogether and being checked in to a Los Angeles hospital for psychiatric evaluation. Meanwhile JAY-Z, after his wife gave birth to twins, released the intensely personal 4:44 which — among other things — alluded to his failing relationship with Kanye:
But you ain't a saint, this ain't kumbaye
But you got hurt because you did cool by 'Ye
You gave him 20 million without blinkin'
He gave you 20 minutes on stage, f**k was he thinkin'?"
Who knows if they'll ever patch things up again, either.
However, I don't hate New York anymore. Instead, I've grown to have some sort of "reluctant acceptance" for it, as in "it's not all that great, but it's better than my life before." Watch The Throne marked a watershed moment in my professional life, and realizing that it's now five years old makes me reflect on my own life as well. I'm no longer the angry jerk from those Slap-Boxing With Jesus days, and I've since become a three-time uncle and a godfather to four children. Things have gotten much better for me, emotionally and mentally. I just hope that one day they can experience something similar to the moment I did way back on that stuffy, smelly, extremely hot July day.