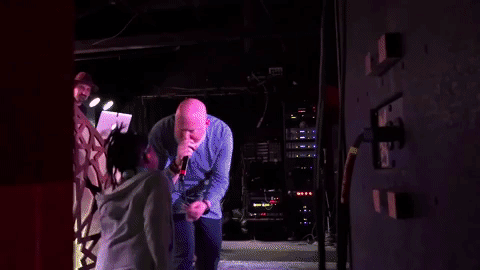 Much brighter than his previous efforts, Brother Ali set the warm weather season off with his first album in five years, All the Beauty in This Whole Life. Now, as he begins to set his Fall off with another leg of his The Own Light Tour, Ali drops a video for "Is Ain't Easy."
The video is a highlight reel of Ali's summertime travels, meet and greets with some of his biggest fans, performances and more. Peep the cameos from Fashawn, Sa-Roc, Sway and others as well.
The dates for Ali's Fall tour can be seen below.
Oct. 4 – Ann Arbor, Mich. – Blind Pig
Oct. 5 – Grand Rapids, Mich. – The Pyramid Scheme
Oct. 6 – Cleveland, Ohio – Agora Ballroom
Oct. 7 – Columbus, Ohio – The A&R Music Bar
Oct. 9 – South Burlington, Vt. – Higher Ground
Oct. 10 – Boston, Mass. – ONCE Ballroom
Oct. 11 – Baltimore, Md. – The Ottobar
Oct. 12 – Brooklyn, N.Y. – The Knitting Factory
Oct. 15 – Carrboro, N.C. – Cat's Cradle
Oct. 17 – Atlanta, Ga. – Aisle 5
Oct. 18 – Orlando, Fla. – The Social
Oct. 21 – Austin, Texas – Antone's
Oct. 22 – Dallas, Texas – Dada
Oct. 24 – Tucson, Ariz. – Club Congress
Oct. 25 – Flagstaff, Ariz. – The Green Room
Oct. 27 – Berkeley, Calif. – Cornerstone
Oct. 28 – Stateline, NV – ViN.Y.l Room
Oct. 29 – Santa Cruz, Calif. – The Catalyst Atrium
Oct. 31 – Bellingham, Wash. – Wild Buffalo House of Music
Nov. 1 – Spokane, Wash. – The Bartlett
Nov. 3 – Missoula, Mont. – Monk's
Nov. 4 – Boise, Idaho – Reef
Nov. 7 – Boulder, Colo. – Fox Theater
Nov. 9 – Kansas City, Mo. – The Riot Room
Nov. 10 – Iowa City, Iowa – Blue Moose Taphouse
Nov. 11 – Sioux Falls, S.D. – Icon Event Hall
Nov. 16 – Minneapolis, Minn. – First Avenue