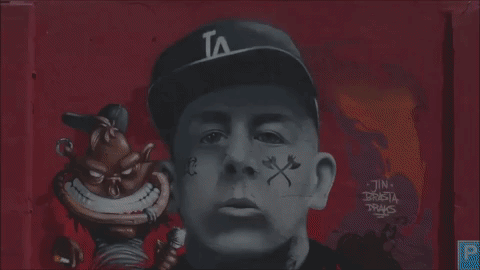 While his fourth album — produced in its entirety by Evidence — is called The Darkest Hour, the latest video from Madchild is actually anything but.
In this quickstrike clip for "Corleone," a giant mural in Madchild's likeness is created by artists Brasta Man, Mario Jin, Draks and Julino. The entire process — shown in a time lapse format — is pretty cool to see, and the end result is dope also.
Mad is also hitting the Canadian roads with Necro, on perhaps the best-titled tour of the Fall: the F**k Commercial Rap Canadian Promo Tour. The dates can be seen below.
October 05 – Oshawa, ON @ The Music Hall
October 06 – Ottawa, ON @ The Bourbon Room
October 07 – Kingston, ON @ Overtime Sports Bar
October 09 – Windsor, ON @ Imperial Nightclub
October 10 – London, ON @ Rum Runners
October 11 – Hamilton, ON @ Trust Nightclub
October 13 – Montreal , QC @ Le Belmont
October 14 – Quebec City, QC @ Salle Multi
October 15 – Toronto, ON @ Rockpile West Nightclub
October 17 – Thunder Bay, ON @ Crocks Nightclub
October 19 – Winnipeg, MB @ Nectar Nightclub
October 20 – Regina, SK @ Pump Roadhouse
October 21 – Saskatoon, SK @ Saskatoon Event Centre
October 22 – Edmonton, AB @ Ranch Roadhouse
October 24 – Calgary, AB @ Dickens
October 26 – Vancouver, BC @ Harbour Events Centre
October 27 – Kamloops, BC @ CJ's Nightclub
October 28 – Chilliwack, BC @ Main Street Nightclub
October 30 – Kelowna, BC @ Sapphire Nightclub
October 31 – Nanaimo, BC @ Queens Nightclub
November 01 – Victoria, BC @ Distrikt NIGHTCLUB