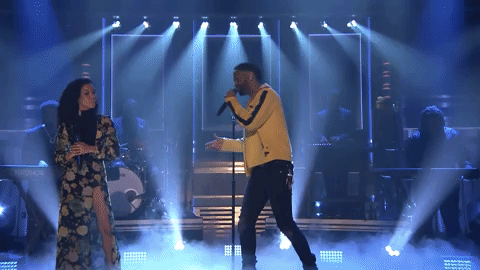 In an Instagram post, Jhené Aiko stated that this would be the first television performance of "Penny," her nickname-slash-alter ego which inspired her latest album, TRIP. However, this wouldn't be her very television appearance: as recently as 2016 she — along with Big Sean as TWENTY88 — performed on The Late Late Show back in 2016. "Moments" on The Tonight Show.
The two returned to late night again, this time to perform "On The Way" on Jimmy Fallon's The Tonight Show. With The Roots backing them up, their performance can be seen below.
SHAKE UPDATE: In other news, Ms. Aiko decided to get a tattoo of Big Sean's face on the back of her arm. At first, I thought it was fake (because… seriously?), but you see it during the performance.