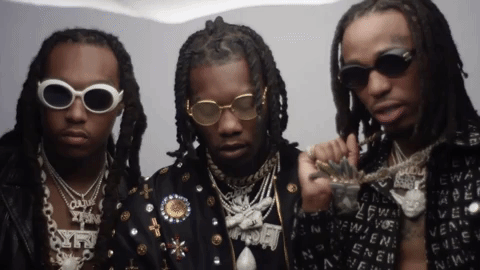 Celebrating their twentieth anniversary, XXL Magazine commemorates the milestone with a special edition featuring "twenty artists at the top of their game" on twenty different covers.
Following Nicki Minaj's very first solo cover, the Migos also land their very first cover with the magazine. In their sit-down they spoke on being equal even when they're separated, wanting to be remembered like the all-time greats (Takeoff wants a Migos movie in 20 years, a la The New Edition Story), and more.
Quavo says on their career as a trio:
"We always grew up watching groups, seeing how they get down and seeing how they move. Some move right and some of them not, but it's all about coming together at the end. We haven't did too much solo stuff right now anyway, so we focused on building ourselves as a team and keep building ourselves as a group.
"I do features all the time. I feel like that's not even a solo thing. I feel like a whole solo is a solo song. I feel like a whole album is a solo album if you do it by yourself. That's what I call solo. If anybody else get a call to do movies or do anything, we always support each other. I see that in The Lox. I see that in OutKast. I see that in even the Hot Boys. They'll have differences and still come together. At the end of the day, they know what they've been through. They know they can sit down and talk to each other. They know they can sit down and go through their differences or whatever. That's what makes groups great."
The entire interview can be read here. A behind-the-scenes look at the shoot can be seen below.