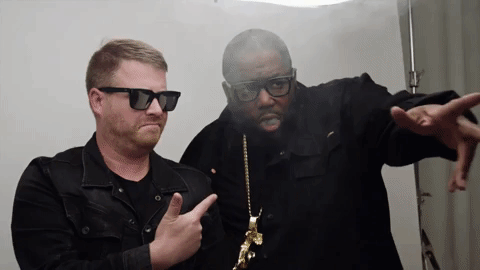 Celebrating their twentieth anniversary, XXL Magazine commemorates the milestone with a special edition featuring "twenty artists at the top of their game" on twenty different covers.
Like the Migos, Run The Jewels also lands their very first cover with the magazine. In their sit-down, the Killer Mike and El-P discuss the importance of maintaining physical representations of music in the digital age:
Mike: "I'd like to just encourage kids out there who are into hip-hop to attach yourself to something physical. That's not to say, "Ah, you need to do this." It's just saying that technology can cut off tomorrow. Apple shows us that every time it's a glitch in our phone and the power company shows us that. For a finite amount of time while you're here you can hold old magazines, you can hold records and cassettes and CDs. They represent, artistically, something that although I can pull up any picture of any celebrity I like on my computer screen, I can't accidentally have a RTJ cover in my pocket. When I see El and Mike be like, "Could you sign this for me?" 'Cause you don't want them to sign a $3,000 computer screen, so…"
The entire interview can be read here. A behind-the-scenes look at the shoot can be seen below.
XXL also gave Pusha T his very first (solo) cover as well.