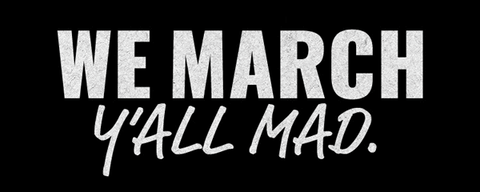 Longtime friend and former Director of Editorial Content at the DopeHouse, Andreas Hale, took to Twitter to voice his frustrations about the constant civil injustices and tweeted this in 2016, after seeing NFL player Colin Kaepernick take a knee for the first time during a game, not knowing just how much of an impact those 89 characters would make.
We march, y'all mad. We sit down, y'all mad. We speak up, y'all mad. We die, y'all silent.

— Andreas Hale (@AndreasHale) September 2, 2016
"The tweet was one out of frustration after watching groups of people get mad at our methods of protesting," Hale says. "They were mad when we marched, took a knee, sat down or spoke up about our bodies being massacred at the hands of the ones who are supposed to protect us. But where are those angry voices when we are dying at the hands of police? Where are those angry voices for Trayvon Martin, Oscar Grant, Philando Castile, Emmett Till, Tamir Rice, Sandra Bland, Aiyana Jones and the many others? They want to tell us how to protest but lack empathy. We don't deserve to die and we don't deserve to be criticized for speaking up against racial injustice and police brutality."
The tweet went viral and has been reposted by celebrities, activists and entertainers including the likes of Sean "Diddy" Combs, comedian D.L. Hughley, writer and civil rights activist Shaun King and comedienne Sarah Silverman. Actor Jesse Williams even used a variation of the tweet in an interview with MSNBC. The tweet has also been photoshopped onto images of Kaepernick and LeBron James, which has spread like wildfire across the web and prompted dialog about racial injustice in America.
In response, Hale has teamed with Maurice Rutledge, owner of Phresh Mynt™ clothing, to release a capsule collection featuring his infamous tweet. Designed by Joel "Shake" Zela, the goal behind the shirts is to both give people a message to rally behind and challenge those who remain on the sidelines or get angry with those who tackle injustice head on.
"Unfortunately, people sought to take advantage and created their own shirts for sale without giving me credit," Hale says. "I've decided to get in front of this as the quote was never meant to be on a t-shirt. But now that it is, I need to take ownership of it."
"Who is y'all? Y'all is whoever isn't with us," Hale continues. "It's not necessarily a color thing because (Speak For Yourself host) Jason Whitlock isn't with us. You don't have to be black to be part of us. We've been speaking up for years. We've been doing sit ins and marches. All we get back in return is people upset about how we protest."
A video video announcing the shirt has been released, shot by Christian FGY with original music from GRAMMY-winning producer 9th Wonder.
"The goal is for the shirt to speak up for people who do not have a voice," Hale says. "The words remain relevant a year later and will likely be relevant for the years to come. Hopefully, this will move people to stop being silent about our lives being taken and speak up against racial injustice and police brutality."
The shirts are available now at Phresh Mynt™'s e-store.