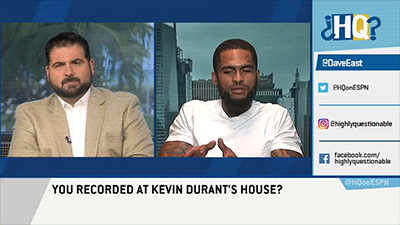 ESPN's Highly Questionable, like His & Hers SC6, frequently sprinkle in hip hop references throughout the show, and will sometimes talk to guests about legendary rap rumors, their intensely personal lives, or just sit there and let Swae Lee run roughshod over them.
Dave East was a recent guest on the show, and he touched on a variety of topics. East opened up about what it took to convince his father of his burgeoning career (he bought him a house), his relationship with NBA oddball Michael Beasley , and reminisces about recording his earliest music at Kevin Durant's house (KD was one of Dave's earliest supporters). There's even footage of Durant in the booth!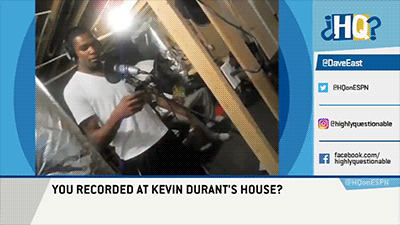 Paranoia: A True Story is out now, but Dave says that another — with a Drake feature — is on the way.
@DaveEast talked about growing up with Michael Beasley and recording music at Kevin Durant's house. pic.twitter.com/BXcniSQKp1

— Highly Questionable (@HQonESPN) October 17, 2017