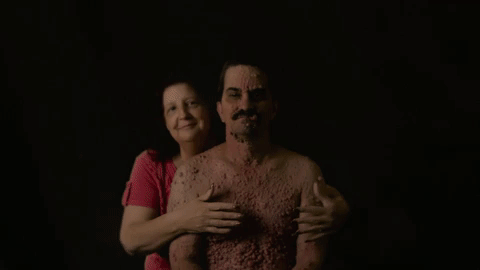 Usually when Flying Lotus drops a visual, it's an abstract piece of art that is left to the viewer's interpretation (see his recently-released "Post Requisite"). However, this latest short is more poignant than the others.
In conjunction with NOWNESS, the sometimes Captain Murphy unveils Define Beauty: Skinflick. Described as an "ode to his friend Bumpy Bob the Bubble Boy (née Bob Heslip)," the video explores Bob's body as he suffers from a rare skin condition and tumor disorder called neurofibromatosis type 1 (or NF-1). NF-1 causes fleshy lumps to form all over the body, and affects roughly 0.03% of the population. Lotus uses Skinflick to explore the surface of Heslip's body in minute detail, revealing its sllure rather than its supposedly societal ugliness.

"I first met Bob Heslip when working on my feature film KUSO – I had him do a very small role for me and in the process of shooting I saw so much potential in him as an actor and a unique human being," FlyLo says. "He is a lovely man and I wanted to make a film that would honor the beauty of his unique condition."
Watch below.