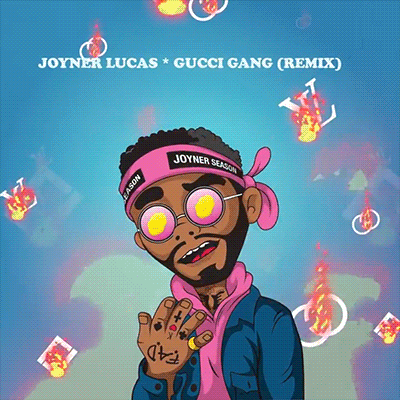 Last week (Nov. 28), Joyner Lucas released the video "I'm Not Racist," which racked up millions of views and coverage from the likes of CNN and The Boston Globe.
Now, Joyner returns with a his take on Lil Pump's hit single "Gucci Gang." Ironically enough, he spends time taking shots at the colorful-haired musician and his ilk for making music that allegedly glorifies drug use:
What's a Lil Pump to a rocket flame/Turn your pink dreads into some pocket change/All you new rappers ain't talk about sh*t except doing drugs/Wonder how you got a name/Sippin' lean, taking E, Percocet, purple drank, Xanax, everything sound the same/Bunch of drug addicts in the house of pain.
Pump isn't the only one to catch a jab, either.
UPDATE: According to Lucas, he's not dissing Lil Pump.
For the record, Im a fan of @lilpump .. everytime I remix someone beat I always have fun. Im actually a pump fan. My remix wasn't a diss. Wasn't a diss to @LifeOfDesiigner on panda or @1future on mask on or @kendricklamar on DNA. I jus be goin off havin fun. It's always love 🙏🏼

— Joyner Lucas (@JoynerLucas) December 5, 2017