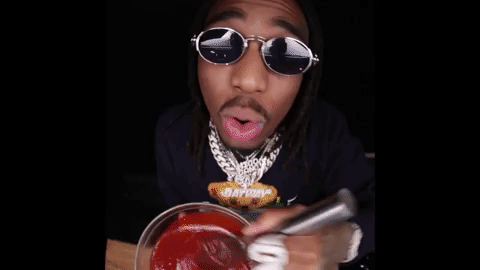 So… we're just calling him Chef Quavious now?
Anyways, the Rap Game Diners, Drive-Ins and Dives — aka, the Migos — have a bubbling hit on their hands in the form of "Stir Fry." So, why not turn the song into theme music for the culinary arts?
Teaming with Buzzfeed food offshoot Tasty, Quavo, Offset, and Takeoff put their whipping talents to use in an actual kitchen for a viral video. While Quavo attempts his best Salt Bae impersonation, Offset is cooking up chicken and bacon and Takeoff adds the final accoutrements to their dish. The final product? Stir-fry, naturally.
"Music is a huge part of the cooking and kitchen experience, so while Migos and Tasty may sound like an unexpected collaboration, it really is the perfect fit," Ashley McCollum, general manager of Tasty said to Billboard. "The guys were incredible to work with and we feel the final product is a successful fusion of our two brands. There's a huge opportunity for Tasty within the music industry, this is just the beginning. And hopefully, we made everyone hungry for a little stir fry."