At this point, it's nearly impossible to count how many projects MURS has released throughout his career.
With over two decades in the game, the Cali-bred emcee has dropped about ten solo albums, teamed with Slug (of Atmosphere) on three FELT projects, joined forces with 9th Wonder for six more, linked with Terrace Martin, Fashawn and MAYDAY on collaborative efforts, and released numerous EPs, mixtapes and compilations. And that's not even counting his work with the Living Legends crew.
In short, the man puts in work.
Showing no signs of slowing down, MURS closed out 2017 revealing he was releasing his "most personal album ever" on March 16th, the rapper's 40th birthday.
A Strange Journey Into the Unimaginable arrives on the heels of MURS dealing with some of the hardest things he's had to face during his time on Earth, from a divorce and his mother falling ill to the death of his newborn son.
"You don't really know who you are until you hit rock bottom," MURS says. "I'm reaffirming that I'm not broken. After everything happened, I had nothing I wanted to say musically. I was in the midst of so much shit that I really couldn't speak on where I was… because I didn't know where I was. November was seven-and-a-half months after my son died. I spent the summer with my oldest son. I was getting back to normal little by little. I thought I could stay at the bottom and wallow, but I had Strange Music reserve the release date two years ago. They pressed me to stick to the deadline. It worked. I've always made vulnerable music and been through some things. However, it was nothing like the last four years. So, I screamed back into the abyss."
Produced entirely by Michael "Seven" Summers, A Strange Journey arrives at 14 tracks—including "Melancholy" and "Powerful"—with features from Tech N9ne ("Same Way") Fashawn and Prof ("G Lollipops"), John Givez, XV (yes, X-to-the-V back!), and Propaganda.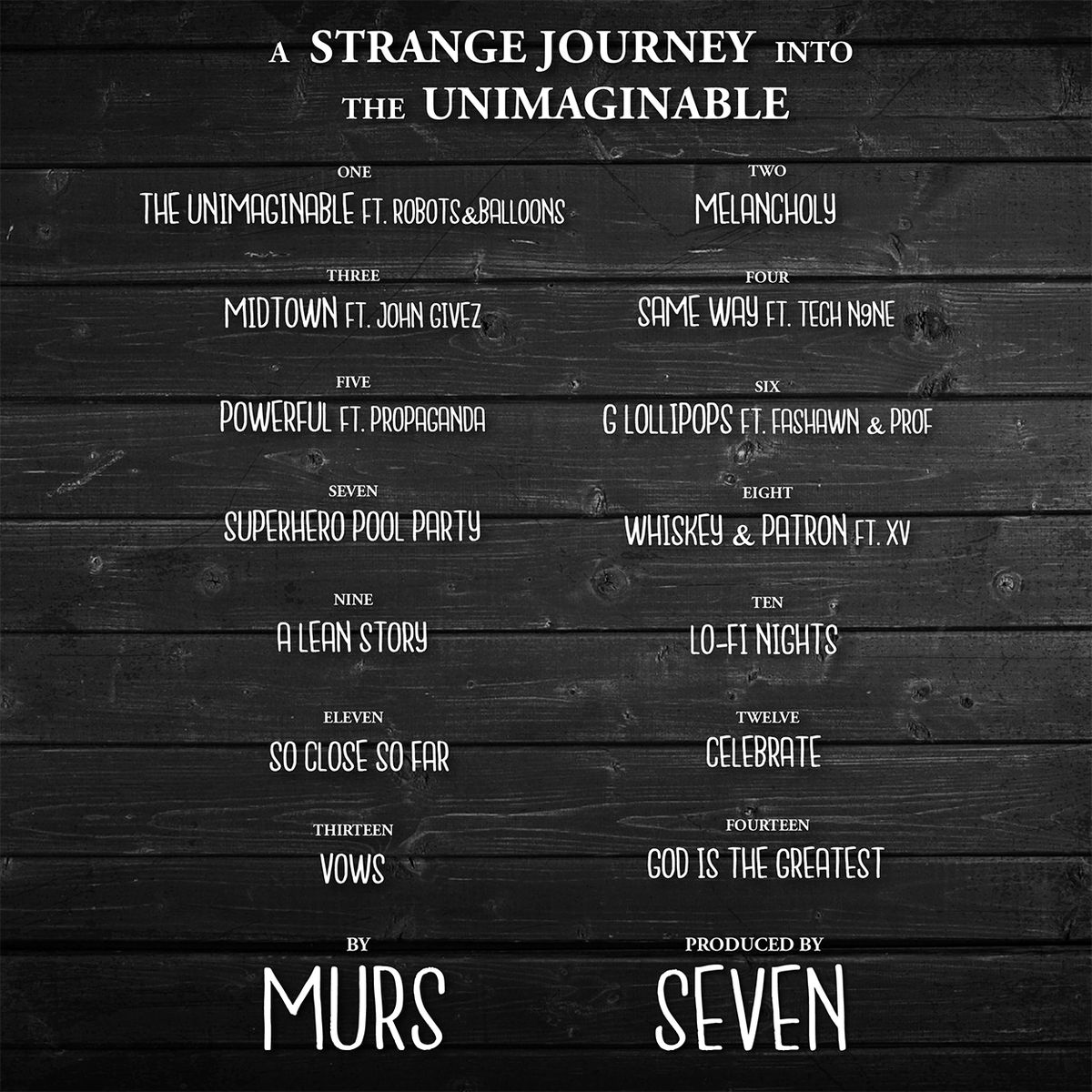 Press play below and be sure to add the album on your preferred streaming platform.
UPDATE: To celebrate the release, MURS also shared a video for (a Fashawn-less) "G Lollipops."