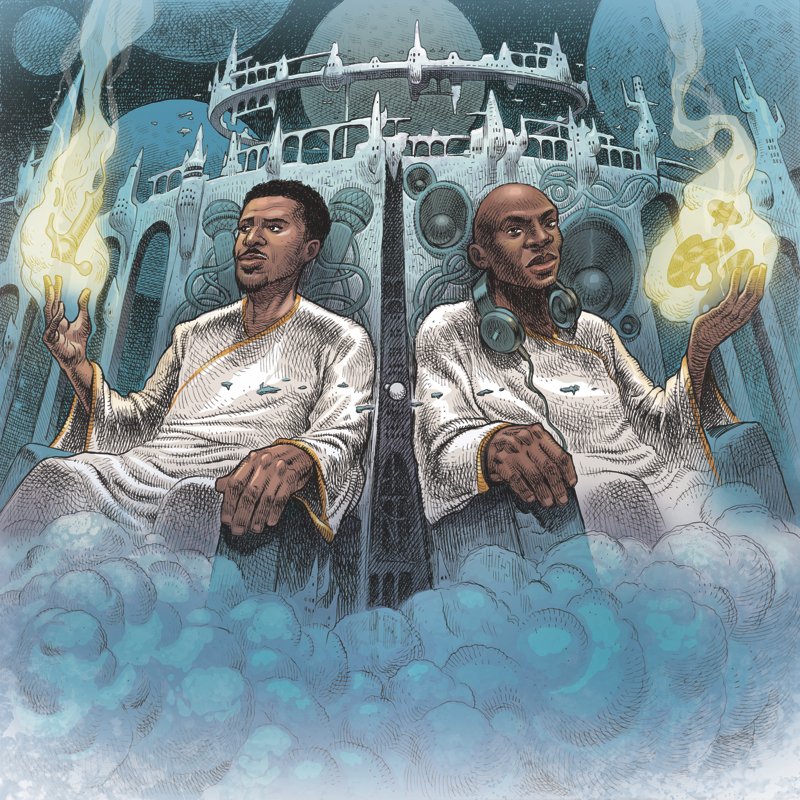 [Art by the incredible Dan Lish.]
Blu and Nottz are back at it.
After teaming up for a pair of EPs in 2013 (Gods in the Spirit) and 2016 (Titans in the Flesh), the emcee/producer duo have returned with a combination of both.
"Being some of my greatest material to date and the strongest lyrical follow-up I've constructed since Below The Heavens," Blu says, "I feel more than honored to have both EPs commemorated as an LP to stand out amongst a band of classic full lengths produced by Nottz—like Asher Roth, Kardinal Offishall, Rapper Big Pooh, and so on."
More than a simple re-release, the duo have joined forces with Coalmine Records to give Gods in the Spirit, Titans in the Flesh a proper re-mix and remastering. Blu even restructured the tracklist to better suit his narrative.
"Gods in the Spirit was the beginning—an eye opener to the madness that me and Blu were about to unleash," Nottz adds. "While Titans in the Flesh unleashed the wrath. With both EPs now combined, it's a wrap—the kraken has officially been released with reckless abandon."
Equipped with a new song called "Yesterday" with Sene and Elisa Meri, the full-length release includes features from Skyzoo, Torae, Bishop Lamont, Nitty Scott, Exile, Homeboy Sandman, Mickey Factz, CashUs King, and more.
Press play below and be sure to add the album on your preferred streaming platform when it drops at midnight.