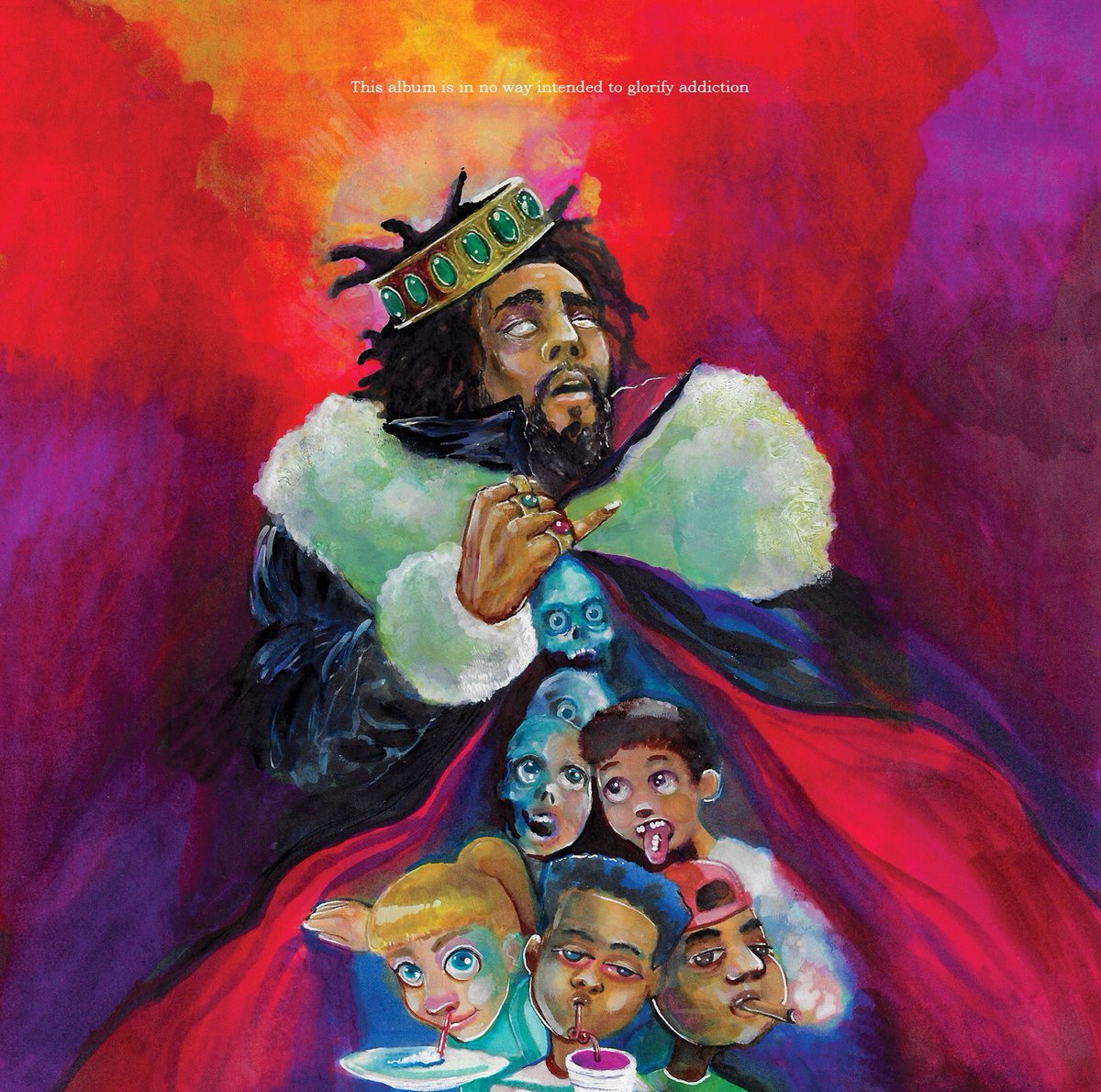 With less than a week notice, J. Cole drops his new album.
What started as a 'no phones, no cameras, no guest list' show in NYC on Monday night, Cole used the time to debut his fifth studio album, K.O.D., for the hundreds of fans who were lucky enough to gain entry.
Now, after a second event in London the following night, Cole has released his latest full-length to the masses.
Equipped with 12 tracks and no features (kiLL edward is an alter-ego), the album—which is in no way intended to glorify addiction (as the artwork, by the talented sixmau, notes)—stands for Kids on Drugs // King Overdosed // Kill Our Demons, which was broken down in the album trailer.
Kids On Drugs
"If I turn on the TV right now, it's not gonna take long for an advertisement to pop up that says, 'Are you feeling down? Have you been having lonely thoughts?' And then shovel pills in your face. The first response to any problems, is to medicate"
King Overdosed
"This represents me. The times that I was, and am, afflicted by the same methods of escape, whether it be alcohol, phone addiction, women."
Kill Our Demons
"The end goal. To face our shit, to realize we have some shit going on inside. Everybody. I realize everyone's family is fucked up. I used to feel like it was just my family. Nobody is fucking perfect. Whether you want to or not, you're gonna fuck your kids up in some type of way, because you got fucked up in some type of way. The plan is to fuck your kids up the least amount as possible, but there's some sort of mistake that you make that they're gonna have to grow up in and face. Kill Our Demons is about finding that shit. Whether it be traumatic childhood experiences, lack of attention, confidence issues, insurcrities—whatever it is, we gotta be honest with ourselves, look in the mirror, and ask ourselves questions like, 'What is really eating me? What's causing me to run to this thing as an escape?' And once I find the root of it, I'm gonna look it in it's face and see what it really is."
The last song, "1985," also doubles as an intro to a project called The Fall Off, which leads us to believe Cole has a mixtape on deck, completing the trilogy that started with The Come Up and The Warm Up.
Regardless of what's to come, K.O.D. is here, and can be heard below. Press play and be sure to add it on your preferred streaming platform.