The Kid is alright.
In 2016, Kid Cudi was in a dark place. Battling anxiety and depression, the Cleveland native detailed 'suicidal urges' in an open letter on Facebook—before entering rehab.
Things are much better now, though. Fresh off releasing a joint project with Kanye West, Cudi graces the cover of Billboard and tells the publication he's feeling better than ever and ready to give back to the world.
"I was in a really bad place, and at the time, I felt like I was letting a lot of people down," he says. "It was really hard for me to even write that letter, but I needed to be honest with the kids. I needed to. I couldn't live a lie. I couldn't pretend to be happy."
These days, things are looking up. "It was this year, around my birthday. I'm the best I've ever been in my life," he continued. "I realized I was genuinely happy, and there's nothing really going on in particular. Just being 34, to be still doing what I love. Taking care of my responsibilities, and my daughter's good and my family's good. Creating is making me happy again."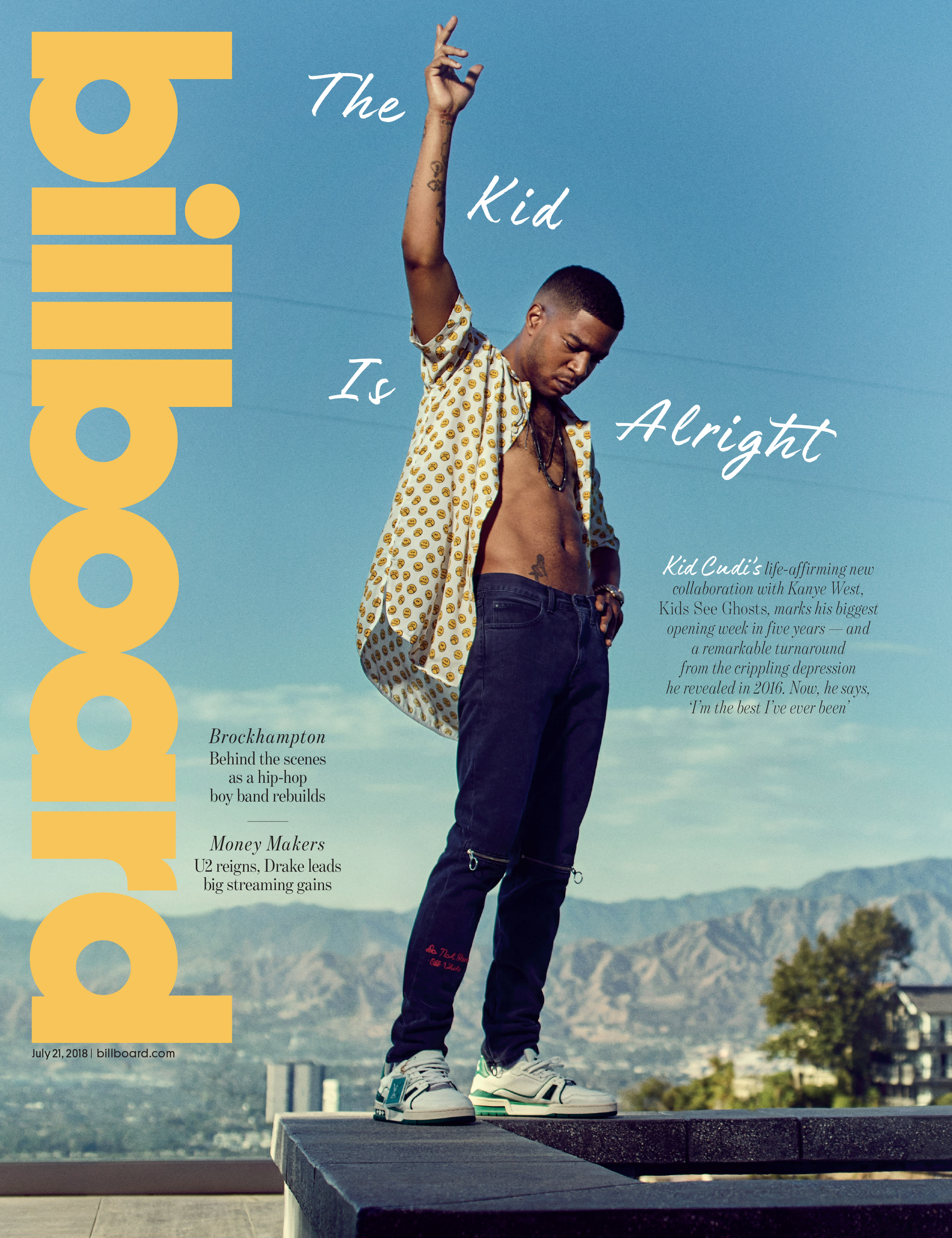 On top of the mental health talk, Cudi also discussed his relationship with Kanye, his influence on the youth and how it's showing more than ever 10 years after the release of A Kid Named Cudi, future endeavors (including more Kids See Ghosts projects), and more. A few quotes can be seen below with the full cover story available at Billboard.
On Kanye West and future Kids See Ghosts projects…
I think me and Kanye are always going to make awesome shit together. We just have this chemistry that's undeniable, especially when we have to fight for it with each other. It's really easy for us. Kids See Ghosts did take us a little over a year-and-a-half to just get it tight and where we wanted it to be, but the actual songwriting process and putting the songs together wasn't really hard. Me and Ye, we click like that musically. But — I was just talking about this with Jaden Smith today — it was still the pressure of going toe-to-toe, line for line with Ye, and that was heavy for me. At first, when he mentioned he wanted to do the album, I didn't know how serious he was. But I was real serious about it. Months went by, and we just kept working on it and chiseling away at it. It was funny to us when people were talking about how the album was rushed or last-minute. I knew what it took. I was there the whole time.
There are some songs that we didn't use that I'm hopeful we can put out later. But the plan is to do more Kids See Ghosts albums.
On the Wyoming experiment…
It was like camp, like a super camp where all the fucking creatives go to create. We ate together. We laughed together. Chilled. It was really cool to be around Nas. That was the illest. We'd be chilling in the room, and then Nas would leave and we'd be like, 'That's fucking Nas.' We'd be asking him questions about coming up in Queens, did he know Biggie, all these questions. I had a ball out there, man. Kanye had his family around. He had his dad there. And we knew what songs we wanted to use.
On how he's keeping his energy high…
I'm just creating a lot, with more love in my heart for what I'm doing and for myself. Living a healthy life, keeping my family around and staying on a mission, which is making music that means something. I'm focusing on my art again and throwing myself back into it and wanting to write something with more of a positive outlook on things, because I've written the dark so well for so long.
On his influence…
I didn't know how many people would catch on, but I knew the right people would. The thinkers. It's 2018, [and] we're talking about music I made 10 years ago. That's wild. I've influenced people, and it makes me feel good about the stuff that I've done. … I've never really thought about my legacy too much. But things are going to get a lot more trippy, and I'm into that. I like where we're headed.