Before he unleashes his YANDHI album on the world, Kanye West was invited to be the musical guest on the season 44 premiere of Saturday Night Live. And for some reason, or no reason at all, he decided to dress up like a damn Perrier bottle while performing "I Love It" alongside his new bestie, Lil Pump. Watch the madness below.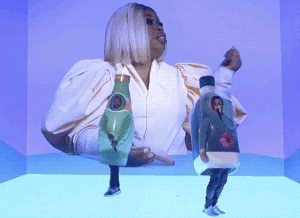 After the bottled water saga, Kanye returned to the stage with Teyana Taylor to perform a new song, "We Got Love."
Back for a third time, Kanye — wearing his precious MAGA hat, smh — invited Kid Cudi, Mike Dean, Ty Dolla $ign and 070 Shake to perform "Ghost Town."
KID CUDI AND KANYE WEST PERFORMING GHOST TOWN ON #SNL 👻👻👻 pic.twitter.com/bSHDPdMfzi

— Travy (@cudderINthetrap) September 30, 2018
And then this happened…
KANYE SNL TALK THAT GOT CUT OFF FREEDOM OF SPEECH SHOULD HAVE EXTENDED pic.twitter.com/IpULoEJxsN

— MIKE DEAN! #MWA (@therealmikedean) September 30, 2018
UPDATE: Like many, Swizz Beatz ain't feeling the MAGA bullsh*t and voiced his opinion on Instagram.
UPDATE 2: No YANDHI this month. According to Kim Kardashian, Kanye's new album will now be dropping on November 23rd (Black Friday). Kanye then confirmed the new date with another bizarre visit to TMZ.
Nov 23 Black Friday YANDHI TRUST ME it is worth the wait 😱😘💦💰👑🔥🎥💋👅👏🏼💕😍🔌🤩

— Kim Kardashian West (@KimKardashian) October 1, 2018