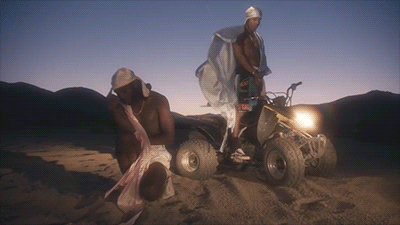 Back in August, Dev Hynes released his latest Blood Orange album, Negro Swan. Narrated by Janet Mock, the insightful project boasts contributions from Diddy, Georgia Anne Muldrow, Steve Lacy, and a few others.
Fresh off killing the Life is Beautiful festival in Las Vegas (which I have great photos from, but haven't found the time to edit), Hynes is back with a video for "Chewing Gum" with A$AP Rocky and Project Pat.
Directed by the man himself, Hynes and Rocky — sporting the most ridiculously long du-rags known to man — hit the open desert on some quads. Check it out below.