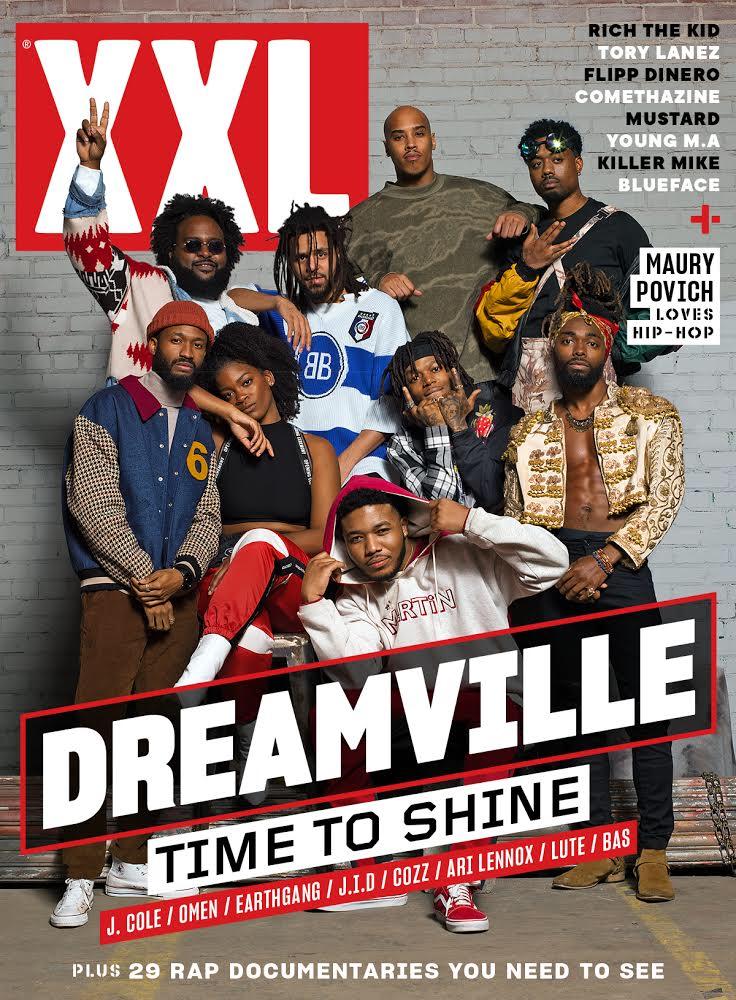 Headlining the latest issue of XXL, J. Cole and his Dreamville stable — Bas, Cozz, J.I.D, EarthGang, Lute, Omen and Ari Lennox — grace the publication's Spring 2019 cover (shot by living legend, Jonathan Mannion).
Here are some highlights from the interview.
On cancel culture: "Because we live in a world where everybody wants to be so quick to cancel somebody. But at the same time, people condemn the criminal justice system, which is entirely the cancellation system. To me, both of those ideas are f***ed up, like, "We're throwing you away." Both of those mentalities miss the mark, which is, people need to be healed. You're looking to punish me—and don't get it twisted, what I did was a punishable offense—but where are you talking about healing me? Where are you going to show me some compassion and some f***ing love? …You can't grow from it. I'm down for accountability culture. I'm cool with that. Even for myself. Everyone needs to be accountable. I don't mind if someone got something to say about me or what I said or did. That's all good. But cancel culture? I don't cancel nobody."
On TDE: "They murder the game, honestly. They really set a high bar for a label's success. We look up to what they did, what Top [Dawg] did. Hell yeah. But of course, we want our time, too. That's what this year is about, the beginning of that. We've been bubbling, we damn-near been underground. We signed Bas in January 2014. That was only five years ago. That was our underground period, and we coming out of that right now…We wouldn't be here if it wasn't for [Bas'] Too High to Riot, [Cozz's] Cozz & Effect, [Omen's] Elephant Eyes, Ari [Lennox's] Pho, Lute's West1996 Pt.2, [J.I.D's] The Never Story, EarthGang's Rags. All of these keep laying the foundation. At a certain point it's going to be the straw that broke the camel's back. This [rap camp] was a major first step in being pushed to the mainstream. Now, all the clips is loaded with music. It's not even fair."
The issue hits newsstands April 9th. The entire article can be read here.