For longtime residents of this site, many of you should remember our 2Dope To Sleep On series. Launched in 2008, the recurring series introduced many of today's favorites well before the mainstream world gave them their ears. Just to name a few: J. Cole, Bas, Sylvan LaCue (fka QuESt), Isaiah Rashad, Boogie, Casey Veggies, and YGTUT all at some point over the last twelve years were given the honor of being "2Dope To Sleep On."
Over the years, the industry has only grown and become more jam-packed with artists, many who are waiting for a deserving spotlight to showcase their talents. With being said, it's been a solid three and a half years since our last 2Dope To Sleep On installation and it's time to bring it back.
Without further ado, Memphis rapper Duke Deuce is 2Dope To Sleep On.
Over the past few months, the DopeHouse has taken the position as the official stan site of Memphis-bred, Quality Control-signed act Duke Deuce. For starters, the music slaps. From "Yeh" to "Grab A…" to "Crunk Ain't Dead" and its remix, Deuce has caused a no-infant zone to be placed in a 25-mile radius of our whereabouts as each track invokes a feeling of baby punching.
(Disclaimer: No babies were harmed in the making of these posts.)
Two weeks ago, Deuce shared his second project, Memphis Massacre 2, at the backend of nearly eight months of head-banging anthems. As he awaited a flight to Dallas for a show, we spoke to the Memphis rapper about MM2, his recent success and the music in his hometown.
Memphis Massacre 2 is led by "Crunk Ain't Dead," a track that presented an added boost in its upward trend thanks to an absolute mayhem of a visual. Deuce and his crew losing their minds in a studio session and while the track would eventually churn out a remix, getting the ball rolling on one wasn't exactly on Deuce's mind. "I didn't really plan on doing a remix, [at least] no time soon with that song, but Pee [Pierre Thomas] wanted to do the remix and he was really pressing for it, so I was like why not?" As soon as his mind was set on a remix, Deuce knew exactly who to get on it, "First people I thought of was Three 6 Mafia. So I went and got Juicy J and [Project] Pat." The Quality Control CEO then supplied Deuce with the idea of adding Lil Jon to mix, an addition that Deuce uncontestedly agreed to.
Quality Control signed Deuce and for well over a year, the Memphis talent was their best-kept secret. QC has a way of nurturing their artists and prepping them for a quick and overnight-like rise to fame. An example of this would be Lil Baby; the ATL act sat under the QC helm for several months before shooting to nationwide acclaim thanks to the Drake-featured "Yes Indeed." However, that was preceded by a number of bubbling singles, a task Deuce is currently in the process of. With his spotlight moment set to come in due time, Deuce is happy with his QC home as he trusts the process towards his continued success.
"I love it man. I feel like it was the perfect home for me and I feel like I stand apart from everyone else and what everyone is doing. I feel like I'm the missing link that the label really need, it's dope."
QC collected the Memphis act well before any of the major platforms had even discovered him. Fielding a single offer from a mere underground label, the folks at QC came knocking and, well denying their offer wasn't really in Deuce's interest, at least in his eyes. "If QC pop up in the midst of that you know I have to go QC."
Upon signing to the label Deuce would unveil his debut project, Memphis Massacre. The project boasted 15 tracks and guest features from Project Pat and Offset, with the latter actually being the artist responsible for Deuce's discovery and subsequent signing. Offset has been there for him through more than just his discovery and delivering features. The mentorship of sorts is there as well. "It's an OG telling me to stick to what I believe in, stay true to myself and don't let no one try to turn our situation into theirs — speak up, keep going and stay on their neck, just keep working."
Deuce has taken this advice to heart and applied it to the Memphis Massacre series. "I'm bringing this Memphis feel, this Memphis sound, and making a killing out of it. I think that's the best way I can break that down." Deuce is unapologetically himself in his music and it's truly where the beauty of it lies. MM1 and MM2 find him well aware of his uniqueness, one that appears long before the high-stepping, feet gliding dance moves that have brought him added fame.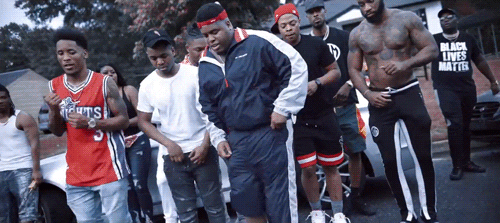 In being unapologetically himself, Deuce is also unapologetically Memphis. Over the past five years, rap's epicenter has slowly and silently moved towards Grind City, with the emergence of acts like BlocBoy JB, NLE Choppa, Young Dolph, Key Glock, Moneybagg Yo and Blac Youngsta. One of today's biggest producers, Tay Keith, calls the city home as well. All of those talents, especially Deuce, are ready to hone in on the spotlight placed on their city.
"There was a point in time where it was Memphis a long time ago and boom, everything kind of moved to Atlanta and the sound — Atlanta picked up on the sound a lot, it came from Memphis. I guess it's just our time again, I'm excited."
Most artists work with the new talents in their city before traveling back in time to the OGs, but not Deuce. His career was launched alongside not only Memphis' best, but The South's best as well, and now he looks forward to connecting with the new generation of the city. "I want to work with [Yo Gotti's] CMG, I want to work with [Young Dolph's] Paper Route Empire, I want to work with everybody."
The future is bright for Duke Deuce. Conforming to his generation's tendency for delusional thoughts and equally delusional actions is not in the playbook for him. Rather, more head-bangers preceded by an echoed "what the f*cckkkkk" scream is what Deuce has in store and as far as this site is concerned, that's all we need. As for what's next?
"More music, I am going on tour this summer, Coach K just confirmed it yesterday and yeah just more work bro, just ready to work."