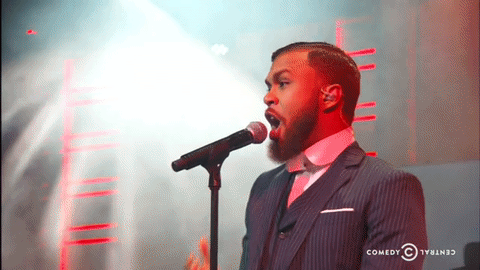 First things first.
It is an absolute travesty that Comedy Central canceled The Nightly Show with Larry Wilmore. While the go-to excuse is "low ratings," I believe that due to its dynamic shift from a fake-Republican spoof of a news show to unflinchingly discussing the Black climate in society on a daily basis, it scared its predecessor's (read: mostly white) viewership away.
Essentially, it's the same reason why some idiotic types have the unmitigated gall to call Luke Cage "racist" because there aren't too many melanin-less characters on the show. Using that logic then, wouldn't shows like Friends, Full House, Seinfeld, The Big Bang Theory, Frasier, The Golden Girls, Gilligan's Island, and about 1,000 other shows throughout the history of television be racist because they never had any Black leads?
I'll wait.
Anyways, The Daily Show with Trevor Noah is still going strong, and last night (October 13th) Jidenna was its musical guest. He would perform both "Long Live The Chief" and "Little Bit More," and those performances can be seen below.
"Long Live The Chief"
"Little Bit More"