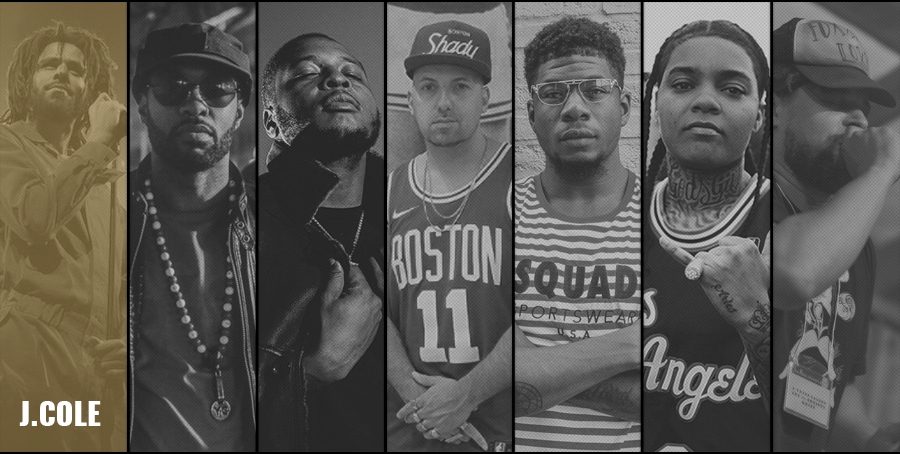 Lyricism is the backbone of hip hop. Although there are a ton of rappers who aren't saying a gotdamn thing, there are those who are exceptionally gifted at putting words together over a beat. And with so many songs dropping during any given month, we feel that those rhymes that combine lyrical dexterity and cleverness with verbal gymnastics should be celebrated. Enter: Verse Of The Month.
After a brief break,* we're back with another set of raps up for Verse of the Month honors. And this month, we've got some fresh faces! On top of J. Cole and his "Album of the Year" freestyle, we've got a handful of artists who are making their first or second appearance in the race. Young M.A. brought her "Car Confessions" concept to life with an extremely honest opening verse, Young Chris returned with a vengeance on "Angles" (and pretty much every song off The Network 5), Mick Jenkins Hulk'd tf out on "Bruce Banner," Mickey Factz bodied a DJ Premier beat for his LA Leakers freestyle, Termanology dropped another "100 Jewelz," and Sheisty Khrist shined bright during his solo track on The Off Daze's new album, Couple's Skate.
Please note… the fan-vote doesn't officially crown a winner. However, it does hold the same weight as a vote from Shake, Meka, and our staff writer Wongo. Leaving the decision up to a fan-vote wouldn't be fair as not every artist will send their fans to vote and the end result is almost always a landslide in favor of the ones that do.
* I wasn't able to put something together last month, but it's safe to say Mysonne would've taken the crown with what he did on Funk Flex (again). Also, I know Eminem's Kamikaze album technically dropped in August, but we're gonna hold that until next month. We need time to digest.