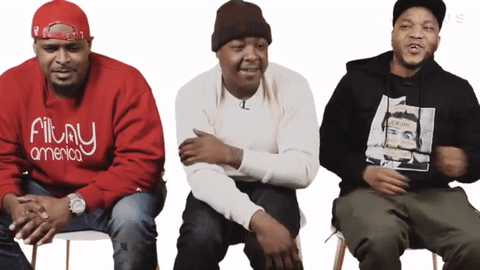 Turns out that "Kick In The Door" wasn't the only "did he or didn't he" diss track The Notorious B.I.G. did.
Speaking to Genius for their "My First Song" series, The LOX revealed that they were actually on the receiving end of one of Biggie's jabs. The story goes: Jadakiss, Sheek Louch and Styles P — after signing to Bad Boy Records in 1996 — dropped their very first song with the label "You'll See" as a promo release. At that time, Puff Daddy was the only person the trio knew at the label; they hadn't even met Biggie Smalls.
After they recorded "You'll See" B.I.G. did his own verse separately, and he went immediately at The LOX: "N****s talkin' it but ain't livin' it, Cristal pops I'm sippin' it, mob hats and lizard sh*t."
"We was talking what we wanted," Styles says, "he was talking what he already had."
Ultimately when the four formally met each other everything was love, and The LOX would work on more music with Biggie (most notably, "Last Dayz" from 1997's Life After Death) before his tragic passing.
The Lox' Filthy America… It's Beautiful is out now.