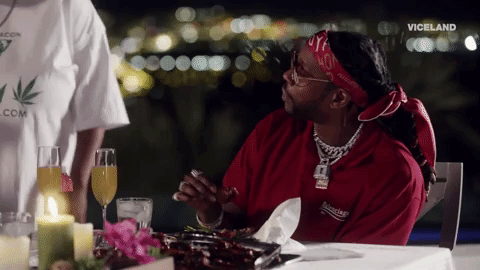 Had someone told me that, in 2017, I could visit a place where weed is infused with infinite ridiculously high-priced crab meats, I would have gotten my life together just a little bit better.
2 Chainz' Most Expensivest is a lesson in exorbitant opulence, and since it moved to VICELAND things have gotten even wilder: he's "smelled" air that cost $10,000 and chopped it up with Robin Leach. Things get taken to the next level in the upcoming episode, however.
Along with Tommy Chong and Hannibal Buress, Young Tauheed spent a night at Vegas Views, where prices can go up to $9,000 a night, just to eat what is quite possibly the most expensive marijuana-infused meal ever, which includes juices, mac and cheese, crab legs, lobster tails and chicken wings courtesy of Zairilla Bacon, a chef who specializes in cannabis infused options for medical patients.
Needless to say, the three aren't patients.
Long story short, Hannibal goes on a wild tangent about chicken and waffles, Tommy passed out and 2 Chainz couldn't stop laughing. This episode airs tonight (Dec. 20th) at 10:30pm.